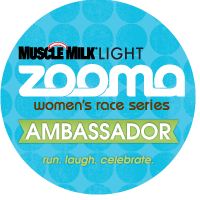 It's Zooma Great Lakes Weekend! I'll be road tripping up to Lake Geneva, Wisconsin this afternoon with some of my fellow Zooma Race Ambassadors. There's a whole bunch of fun stuff planned for tonight and the half marathon and 5k will be tomorrow. Can't wait!
Colton's Army Virtual Race: My Zooma Great Lakes race will be done in honor of a special 12-year old boy battling cancer. Please head over to Hiker Mom's blog to participate!
Runner's World: Many of my FitFluential homies are in Pennsylvania this weekend at the Runner's World HQ, AKA runner's Mecca, hobnobbing with running glitterati and preparing for the Runner's World Half Marathon and 5k. Super fun! Good luck to all!
Speaking of FitFluential: Take a gander at today's FitFluential blog. See anyone you know?
A special shout to to other races I love happening this weekend: Grand Rapids Full and Half Marathon and Columbus Full and Half Marathon. Wishing you all glorious weather, effortless pacing and a strong, inspired finish!
Orange-Up for INGNYCM! The ING New York City Marathon is just around the corner and things are beginning to look a little orange! Although I'm not running it (lottery willing, 2013 or 2014 for sure) I'll take any excuse to rock some orange and support those who are.  Stay tuned for your chance to win some orange INGNYCM goodies of your own right here. Plus be one of the first to post a pic of you "Oranged-Up" on the ING Runners Nation Facebook page for your chance to win a sweet Asics tech shirt.
Who's racing this weekend? Are you in to win some Yurbuds?