How much is too much to pay for a race? Us Chi-town runners are all hot and bothered about this fall's inaugural Naperville Marathon and Half. Prices were announced yesterday: $150 for the full, $115 for the half. What the WHAT? They defend this absurd price with a half-zip valued at $65, race pics included and the fact that the race will be 'world class'. Oh well now that's different. World class like Meb, Kara, Ryan and Shalane will be there? Helicopters will hover and coverage will stream live on Universal Sports?  Jewel encrusted, phosphorescent bling that plays Ode to Joy and spins with the gravitational pull of the moon? What is world class exactly?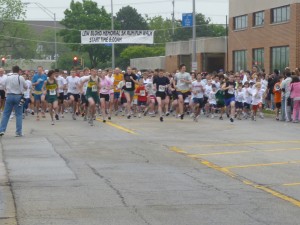 What price points you are willing to pay for races?
Me?
Marathons
Ideally I like when marathons are <$100. I'll pay more but not much more. Certainly not $150+ unless it's a big city race, preferably a world marathon major. I threw up in my mouth a little when I shelled out $110 back in 2007 for Chicago. I know I paid more than that in 2010.
Boston: I'm sure I shelled out closer to $150 for this. This is a bucket lister and a world major. For the record, the second time I went solo to hold costs down. I did not go the third time I was qualified  because I did not want to spend the $$$. My cup runneth over with two Bostons.
NYCM: I will hand over my firstborn or do whatever is necessary when my number finally comes up. Again, this is a bucket lister, a world major, and after waiting impatiently in the lottery since 2010, I'm in too deep to turn back now.
One of my favorites smaller races, Grand Rapids Marathon was $60 when I ran it in 2008. It's now $90. It is so well done, $90 is still a great value IMO.
Half Marathons
I like these to be $70 or less. I've gotta give a shout out to the March Madness Half Marathon in Cary, IL. The Hillstriders put on an excellent, well-supported race on a ball-busting course for under $50. The first time I ran it in 2007 I think I paid $35. There was no shirt or medal. That has since changed but there continues to be no chip timing.
10 milers

I think the $50 range is fair. IMO Chicago's Soldier Field 10-miler is pushing it with $70+. BUT they have the whole finish on the 50-yard line thing going for them.
Final thoughts: I get that race organizers have costs. I get that they are in this to make money. I totally understand when prices are crazy high at the expo or soon before the race. But I love when there are opportunities to snag early discounts (hello $65 RnR specials) I also think the popularity of running has made some organizers feel like they can charge anything they want and the event will sell out. They'll keep doing it as long as we keep paying too much for sub-par races.
Where do you draw the line on race entry fees? What race did you feel was a great value and vice versa?