Last Wednesday I was invited to join Team REFUEL for the Rock n Roll Chicago Half. There was no Bachelor hookup this year, but our sultry weather was forecast to cool and Rock n Roll is always a fun race so Things 1, 2 and I headed to the expo on Friday. Ouch on the $21 parking.
Race day dawned hot and humid. So much for the forecast. Well into the 70's at the start, climbing into the 80's. Did I mention humid? Sigh.
I met up with the rest of Team REFUEL, who could not have been nicer.

Emily and I lounging in the VIP tent.
My corral went off not too long after 6:30 and in the first 200 yds. my fuel belt came off, bottles spewing everywhere. Good thing this is a fun run I guess. I collected myself just before entering the notorious tunnel of stale air that screws up your Garmin. I already had to pee. Joy.
Goals for today: Just have fun. Manage the heat and make the best of it. I'm embarrassed to admit how poorly trained I am for a half right now. I haven't run more than 3-4 miles since the Chicago Women's Half a month ago. But I've been healing a torn rotator cuff and it's feeling way better, so there.
At mile 3 I finally pulled over for a potty stop. Line was long. 12 minutes ticked away. I made myself not care.
We wove thru the Chicago loop streets. I was thankful for the shade of the buildings and any puff of breeze. I knew it would only get hotter and once we got out to Michigan Ave. the sun would be brutal. I took salt at mile 5 (Caveman grabbed some at Noodle & Co the night before and made me promise). I took an espresso Clif Shot at mile 6 and pretended I was at Starbucks, although my mouth was oddly dry. I had lost a bottle and my fuel belt was totally dry. I found a med tent with a baby pool of ice and the first of many ice in-the-bra episodes happened there. After the salt and the gel and the ice, I was as content as I was going to be. I found myself trotting next to a very tall guy who took 2 strides to my 60. I'll be the first to admit I'm not the tallest drink of water but this guy had 2 feet on me. I stayed with him onto Michigan avenue. He could be my shade tree. I lost Lurch, er I mean uber tall guy as I scoped for some Ade of the Gator at mile 7. All I found was water so I pressed on. Odd.
Miles 8, 9, 10 11 all passed with just water at the stations too, and even that was getting behind. I waited. Were they not offering Gatorade? That'll teach me to read the race brochure. So it's blazing hot and sunny now and I'm running to one stoplight and walking to the next in heat weenie style. Restuffing my bra w/ice whenever I can. Up ahead I see them giving out orange wedges, except when I approach they aren't oranges at all but cold sponges. Dude are you hallucinating? I back off my snail crawl even more. For once I was happy to cower underneath McCormick Place. This year they stationed DJs in there and made a laser-light tunnel out of it. I try my best not to slip into a pot hole or trip on a wire.
Finally FINALLY at mile 12 THERE IS GATORADE! WITH ICE!!! Never has ade of the gator tasted so refreshing. I wanted to loll and sip all day. But I pressed on. Under a viaduct I found a woman reeling, about to go down. I helped her onto the curb and got help. What difference would another few minutes make? I'm sure I'd been out there about 8 hours by now anyway.
At last I made it onto that part of the course where there seem to be a billion cars coming at us, separated only by a double line of cones. Too exhausted to even think about where this is: LSD probably??
The sounds from the finish are audible now although I can't see it. I know I need to not walk. Fueled by that last swig of Gatorade, I made it in. Chocolate milk never tasted so good. I chased that with a Jamba Juice smoothie and a popsicle…oh and more ice down the bra and a soaking wet towel turban.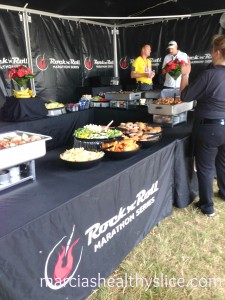 I made my way back to the VIP tent for an amazing brunch spread, of which I can stomach maybe a couple of grapes and a bite of watermelon.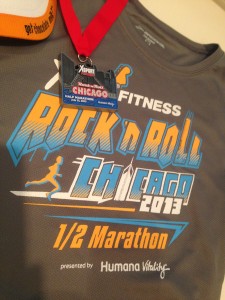 Final Words: This is always a fun race, but such a hot time of year here in Chi-town. This year I really enjoyed the bands on course. The amenities/refreshments in the finishing chute are fantastic. I think the shirt graphic is nice although I'd love a color other than grey. The medal is cool! Slowly I'm getting used to the RnR trademark cheapo ribbon.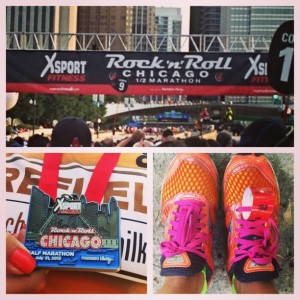 Special thanks to Team REFUEL. You are too good to me! What was fun for you this weekend? Did you race? Did you enter my giveaway?