You know I love me some compression to help my legs recover post long run. When this pair from SLS3 showed up on my doorstep it was like a breath of fresh, spring air. Could I love the color more? Or hello, the butterflies? I think not.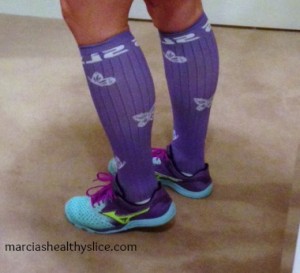 Cute colors aside, these socks are just right: not too thick and not too thin. The toe and heel are reinforced for comfort and durability. They've remained supportive and colorfast through repeated washing. Let's review why compression is your friend post workout:
Helps delay and reduce the onset of muscle fatigue.
Prevents post-exercise soreness.
Evacuates metabolic waste products such as lactic acid by increasing the flow rate of the blood in the venous system.
Improved blood circulation back to the heart means a fresh oxygen supply gets to your muscles faster.
Compression is also the bomb for when you fly because it keeps blood from pooling in your legs and ankles. I always wear compression socks on the plane to and from destination races and rest assured I'll be rocking these on my upcoming trip to Puerto Rico too.

WIN IT! One lucky reader will win a pair of SLS Compression Socks or Sleeves. Open to US residents only, please.
Save 40% Right Now: Use code SLS340 when ordering.
a Rafflecopter giveaway

Remember to check out my other giveaway here!