It's no secret runners need to take in a combination of protein, carbs and fat as soon as possible after crossing the finish line. All the better to replenish depleted glycogen stores and start the recovery process. Read more tips about recovery here.
As much as I'd like to think I want a post-race treat, the bitter fact is I've been known to come across the finish line nauseous. Puking? I've done my share. Racing is definitely an appetite suppressant for me. Typically I forego most of the food at races or give my share to my kids.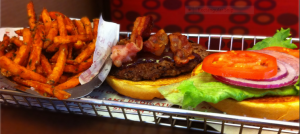 What I'd like to have: Smashburger with sweet potato fries. I actually have enjoyed exactly this, just not immediately after a race. My tummy needs a chance to settle first.
What I actually have: Water, banana, protein bar and maybe some electrolyte drink too.
Some races have pretty memorable treats at the finish line. Here are some I've seen:
Deep Dish Pizza at Chicago 13.1 Sadly way too heavy for me immediately after a race, but yum.
Popsicles and fruit smoothies at RnR Chicago YES! So refreshing as it was blazing hot.
Giant soft, hot pretzels at the March Madness Half. Worth running those insidious hills for.
Chili and ice cream at the Grand Rapids Marathon. Delicious but I did not partake.
Jimmy John's Sandwiches at RnR Denver delicious as we hung around at the post-race party.
Brats and Beer at the Wisconsin Marathon. Pretty appropriate, don't you think?
What's your favorite post-race treat? What races have the best treats?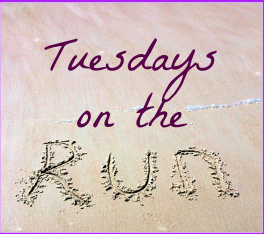 I'm Linking up with Erika, Patty and April for Tuesdays on the Run.