I've been all swim this and swim that around here. Running has definitely taken a back seat to all this tri training I'm obsessed with. But there's another part of tri training that's gotten even less of my attention. Yeah the bike.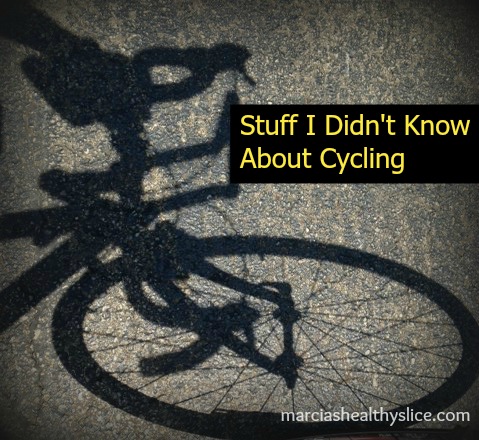 I finally pulled Blanche the trusty road bike out for the first ride of the year last week. Temps were in the 60's, how could I not? While I "know how" to ride a bike, truth be told, I don't "know how" to ride a bike. Not really. Not the official way one does if they were to be on an organized ride or race or triathlon. So when Danielle Kosecki's The Bicycling Big Book of Training showed up here, I knew it was a sign to get in gear and focus on my riding.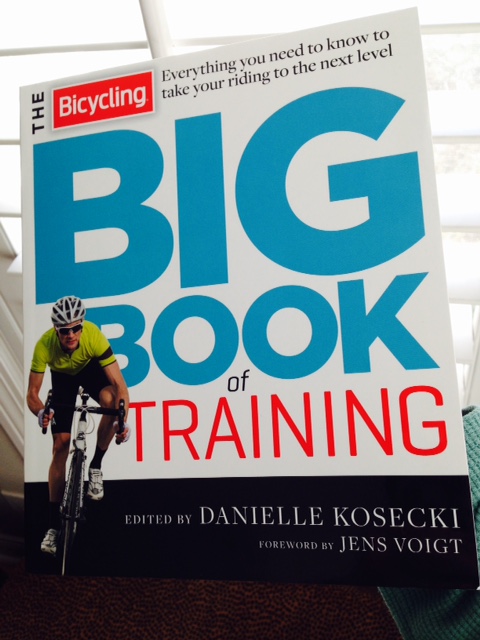 This book has everything in it but the kitchen sink. Divided into 5 parts, it covers everything from the fitness you'll need to ride and train successfully, tips on how to prep, train and compete, road skills and wraps up with tips for  maintaining fitness year-round, identifying overtraining, recovery and so much more.
Things I did not know:
1. Because most of us don't have access to a lab, a 30-minute time trial can be done to approximate lactate threshold. Your average heart rate for 10 miles outside on a flat road is a good working approximation.
2. The secret to riding faster is systematic overload and recovery. Like running, you have to work harder to get more in return. Guess I'd better stop coasting.
3. How to determine whether you're fast- or slow-twitch  muscle dominant. Hint: jumping is involved.
4. Just as running efficiency increases with higher mileage, riding efficiency increases the more we ride. No surprise there.
5. There's a test to tell if your IT bands are tight. And what to do if they are.
6. How to execute proper cornering.
7. The key to smooth gear changes.
8. Being confident and tactically smart may give you an edge over riders that are fitter than you.
9. Six common causes of crashes and how to avoid them. Yes please.
10. The difference between a Century ride and a Gran Fondo. And here I  thought a Gran Fondo was some kind of sedan.
11. Every pound you carry above ideal weight makes you 15-20 seconds slower for each mile of a climb. Pffft. Wait there are MILES of climbs?
…and probably most important:
12. There are ways to pimp your ride to make it look like you know what you're doing. Fake it 'til you make it. While I'm not sure exactly how much I can pimp up Blanche, I am all over this one.
Final words: If you ride, but like me, don't know how to "really" ride, this book spells out everything you need to take your riding to the next level. I know I'll be referring back to it many times over. If you're interested in checking it out yourself, The Bicycling Big Book of Training is available here. I give it 10 gears up.
Are you a seasoned cyclist? Or a casual rider like me? Any riding or racing tips? 
I received The Bicyling Big Book of Training free of charge for review purposes. All thoughts and opinions are my own.