Last week I was at the pool going through the motions of trying to swim when a coach approached. The Aquatic Director and Triathlon Swim Coach, actually. We talked about my goals (survive my first tri) and she asked to see my stroke. I swam out and most of the way back before I wigged out enough to take a big drag on the water. After spelling out my options for lessons, masters swim, a training group, her only comment to me about my swimming was "you've got time". Of course it would've been nice to hear "Wow! You're a natural!" What a great stroke! Espirit de She will be cake for you!" But we all know none of that would be remotely true.
You've got time. And I do: 2 months from yesterday to figure this swim thing out. 60 days to bring the swim bike run all together into one badass festival of multisport.
Instead my inner critic went a little crazy. I've got time. That's all she could think of to say that wasn't horrible. Because my stroke is just that: horrible. Because I suck and I'm not a swimmer and in my head I was already boarding the kayak or canoe or whatever craft of shame they use to pluck the wigged-out swimmers from the water.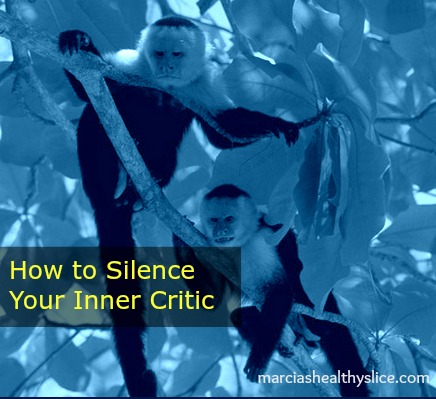 Then I collected myself a little, drew a deep breath and realized my inner critic needs some taming. So I put together some tactics to do just that. To keep those suck monkeys in check:
1. Acknowledge your inner critic. What is she saying? Mine's saying "What if you're not ready?" "You suck at this" Michael Phelps is about 6'8″ and you're 5'2″. "You're so not a swimmer."
2. Is it valid? Well partially. I may not be ready, but I'm doing my best to be ready. The jury's out on the sucking part. I'm vertically challenged: truth. Not a swimmer? I'm swimming, ugly maybe, but I haven't sunk or drowned yet, so false.
3. Replace the negativity with positive affirmations. I've been using positive affirmations while running since the beginning of time. Today in the pool I allowed only positive self-talk. It felt ridiculous at first, as it always does. Then hilarious. But then? I relaxed the tiniest bit. I may not be the fastest or have the best stroke, or a hot bike. But if I can just stay within myself and be my own best friend, I've got this. Did you hear that suck monkey? GOT THIS.
Do you have an inner critic? What does it say? How do you silence it?

I'm linking up today with Amanda for Thinking Out Loud Thursday.