Before I get to the race: Saturday Thing 1's track sectionals were the focus of our day. We were there (in the rain at times) from 8:30 until 5. She PR'd her 200m and came in 2nd, missing State by less than a second, and oh my her long jump. She usually jumps high 12's/low 13's. She would've been thrilled with anything in the 13's. First jump? She throws down a 14'3, then a 14'5 and a 14'6″, which advanced her to the final. Last year she scratched all of her jumps and left devastated. This was huge redemption for her and I am so proud.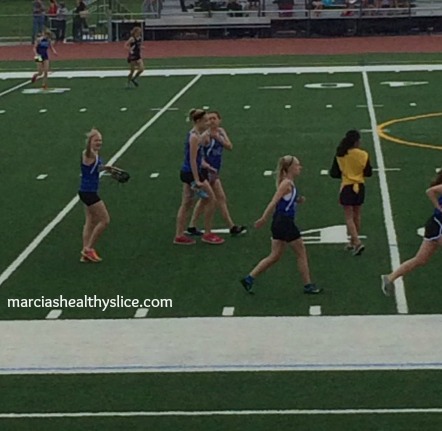 Thing 1 has been friends with the girls on her relay team since kindergarten. Oh look! I even got a wave! 
I threw in an impromptu 5k on Sunday. It benefited a local dog rescue and since I have a major soft spot for all things canine, I couldn't resist.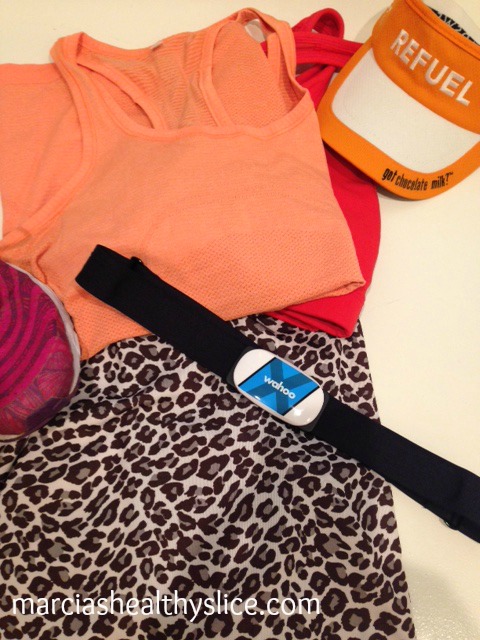 I thought I was being all festive wearing my snow leopard skirt but then realized a cat skirt at a dog event might not be the best. As if dogs care.
It was already 70 degrees at 5am. I probably won't be setting any land speed records. Skies were grey and ominous. It drizzled all the way to the race then rained harder when I got there.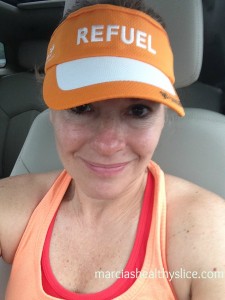 Here's my "why do I do this?" face. 
When we went off though, the rain stopped. But wow, steamy humidity. I'd run this course before. Not the easiest trails ever. Lots of long inclines. Slippery wooden bridges.
The trail was very crowded and bottle necked at the first wooden bridge. An apricot poodle-ish dog except larger (I'm guessing a doodle of some kind?), was barely trotting up ahead yet he was way faster than I. What's up with that?
Another dog gasped and choked behind me and I wondered what kind of owner would make his dog run that hard? Soon they were ahead of me too.
Since I'm all about heart rate with this tri training, I wore my Wahoo TickrX monitor and set it so it would break into my music at every mile and tell me my pace, mph, number of strides, average and max heart rate. Cool right? Except my heart rate was very close to max yet I was running pretty slow. Ugh.
The course was an out and back and on the way in, lots of oncoming runners/walkers were 3 and 4 across, completely blocking the path. I told myself to get over it. It was hot and I was tired. A lady with tattoos all over her back ran just ahead. Other than a couple of guys, nobody passed.
By the start of mile 3 I closed in on tat lady. I ran the tangents and eventually I passed her. I didn't think she'd allow that but I never saw her again until after the finish.
I've raced this course before but the exact start and finish lines were different this time, which messed with my head a little. When I got to the place where the finish line had been before, there was still a good .30 to go. Blech. I plodded in with time of 28:33 which, for me, is count crapula. I was at least a minute faster here the last time I raced, but to be fair it was 30 degrees cooler.
The finish line food was great: fruit, granola bars, hot breakfast sandwiches, bagels, coffee.
When they posted the results, I wasn't even on them. Visions of the debacle that was the Eggshell Shuffle danced in my head. Then others started saying the same thing. Turns out they posted LAST YEAR'S RESULTS. I was heading to the car when I bumped into someone I knew, with two Samoyeds in a stroller, no less. By the time we stopped yakking they were announcing the awards so I hung around.
I didn't expect a 28 minute 5k to be worthy of an AG award, and it wasn't. I ended up 4th/21. The tat lady I passed got 2nd in the 25-30 AG. Turns out I would've placed in ANY other AG except for mine. All the badass 50-54 ladies turned out to run for the dogs. How cool is that?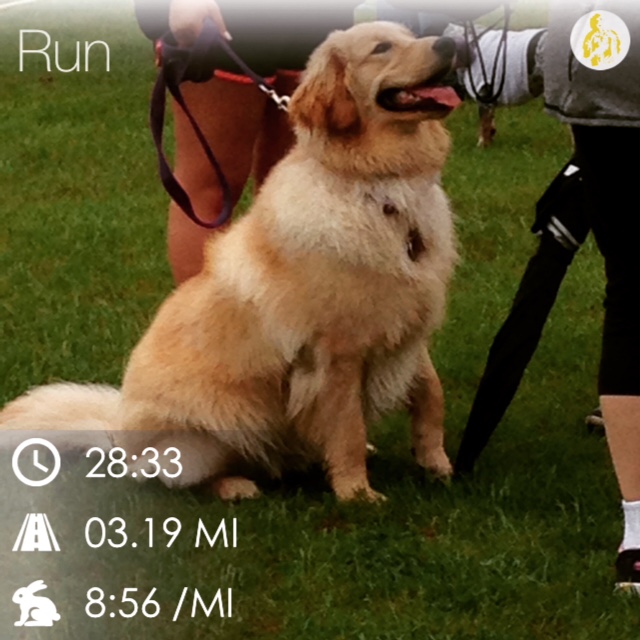 Overall a well done race, even though the weather wasn't ideal and the timing had a bit of a glitch. Swag was cute: cotton tee, dog biscuits and dog toys.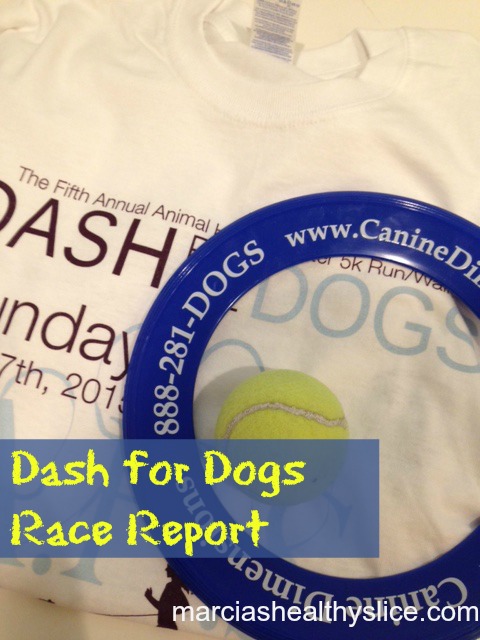 Final words: I suspect there were a combination of factors that made me slow in this race. Heat and humidity I'm not acclimated to, plus my training this past couple of weeks has been pretty intense with the FPT testing, the indoor tri, mile repeats and some pretty hard cycling efforts. I think my body is telling me it's time to ease up a touch.
What was fun for you this weekend? Did you enjoy nice weather? Did you race?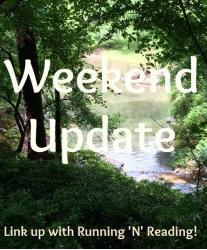 I'm linking up today with Tara's Weekend Update…
And with Jessica, Mary Beth and Nicolasa for the Race Recap Linkup.