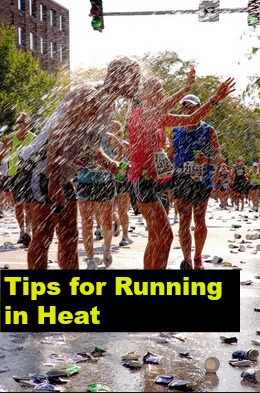 This week's Tuesdays on the Run topic is a timely one: Running in heat. Although it's been a relatively cool spring here so far, the heat seems to be rolling in. Since the very hot and cancelled Chicago Marathon 2007 was my first, and I finished, upright with a smile (ok a fake one), I feel like I earned my "heat cred". Let's review some of the ways to manage hot weather: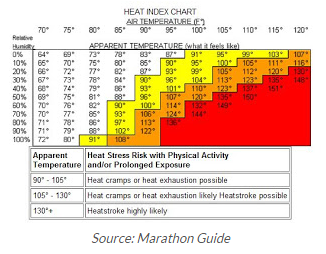 Dress accordingly. Light-colored, wicking (no cotton) loose fitting clothes are best. Wear a hat or visor, sunglasses and don't forget sunscreen! When I ran the Chicago Marathon I put aside the hot pink top I'd planned on for a loose (boring but sensible) white one. Lots of my friends never saw me but I finished the race!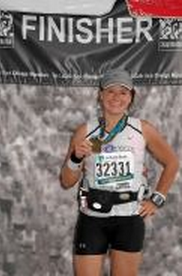 Drink fluids containing electrolytes often, for me that's every 15 minutes. I'm a heavy, salty sweater so replenishing that sodium is key. Ideal hydration is a fine balance of taking in enough but not too much so that your tummy feels sloshy and you throw off the electrolyte balance, ultimately leading to a dangerous condition called hyponatremia.
Freeze your drinks. Trust me they thaw quickly but feel great in a fuel belt in the process. When I have a super long training run on tap, I keep my fuel bottles in a cooler in the car or stashed along my route. A cold drink is heavenly on a hot run.
Run early or late. Avoid the heat of the day. Take advantage of cooling breezes.
Choose a shaded route. Personally I prefer trails on super hot days. Asphalt has a nasty way of reflecting the heat back at you. 
Listen to your body. Muscle cramps and/or heavy sweating mean you need to drink more/slow down.
Lightheadedness, nausea, vomiting indicate heat exhaustion. Rest and drink.
High body temp., lack of sweating and altered consciousness indicate heat stroke. Rest in a cool place, apply ice and call emergency professionals.
Back off your planned pace. When you run, blood/oxygen flows to your muscles so there's less available to flow to your skin for cooling purposes. That's how you overheat.
Take refuge inside. When training, the treadmill is always an option.
If you're racing:
Carry your own hydration. In Chicago, some of the water stations were completely out of water, many others simply could not keep up. This set many up for disaster. By carrying your own, you eliminate some of this risk, and can refill when you see water.
Take advantage of course amenities: cold sponges, ice and wet wristbands are wonderful. I think keeping ice under my hat in Chicago saved me.
Start planning your rematch race. I vowed I'd NEVER run another marathon! We all know how that went.
If its any consolation, know that you'll have 'war stories' to share about your hot race for generations to come!
How do you manage the heat? Tell me a hot race war story!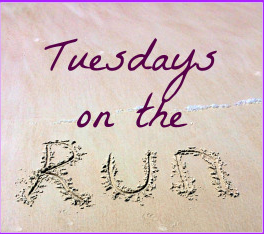 I'm Linking up with Erika, Patty and April for Tuesdays on the Run.