Week 2 of taper is on the books. Here's how it shook out:
Miles Run: 22
Miles Biked: 25
Monday: Rest
Tuesday: 6 miles (5x1k repeats)
Wednesday: 10 miles on bike
Thursday: 6 miles, 2 at tempo pace
Friday: 15 miles on bike
Saturday: Rest
Sunday: 10 miles
I swear this taper is flying. Maybe because it was Homecoming week and I was on a wild goose chase for Thing 1's dress for most of it. It was sheer chaos and incompetence on Macy's part, and I still have a dress to return (I've already returned 3), but the dress Thing 1 ended up wearing was perfection so all's well. No pics here because too many porny peeps have ripped off pics of my kids, but if you're a Facebook friend, check them out there. I got my runs in, and some bike rides as well, (because the weather has been too beautiful not to…and maybe because I feel the slightest bit guilty for coveting a screaming hot tri bike) although they are total taper violations.
We went to the Homecoming football game Friday night. The Caveman and I sat in the overflow section to give Thing 1 & co. their space. It was fun, although our team got clobbered.
Saturday was the Homecoming dance. It felt like wedding prep: Hair, makeup, nails, pre-party, dance, after-party. Exhale!

Here's my view from the punch bowl. Ok there was no punch bowl and, much to Thing 1's delight, I wasn't there. Thing 1 was kind enough to share her video with me. No doubt I'd be blind and deaf from a "show" like that. Homecoming's come a long way since the ice age when I was in high school.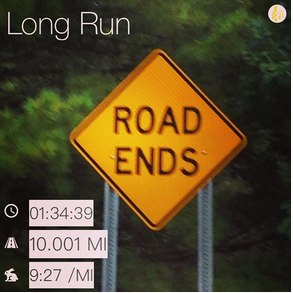 I had no expectations for Sunday's run as I'd been on my feet the entire day before and hydration was non-existent….if you don't count the wine. But here's the thing. The run rocked. All my runs lately have rocked. I haven't run that pace as an "easy" long run pace since the Clinton administration..ok I'm lying again but it's been years. Remember when I told you I finally found a new Endocrinologist? While my overall thyroid function number is fine, this doc broke it down and tested T3 and T4 separately and found while my body is now making the correct amount of TSH (thyroid stimulating hormone) the receptors (T4) that allow you to absorb said hormone were off. So for a little over a week now, I've been on a different thyroid med that "opens the receptors" so my body can absorb the TSH. In that short time, I've lost 4+ pounds, (trust me I am not dieting by any sense of the word) seemingly all off my belly as my fuel belt miraculously fits just fine again. I'm running lighter and faster with much less effort. Before, it felt like I could not convert my oxygen to energy. That horrible feeling is gone! Do you hear the angels singing? I do!
The plan is still to "run happy" in Twin Cities this weekend (THIS WEEKEND!!!) but my happy pace just might be the slightest bit quicker. Although I doubt I have the endurance to manage the entire 26.2 too much faster, one can dream.
It's race week! How's your training going? What was fun for you this weekend?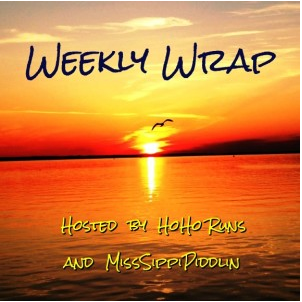 I'm linking up with Holly and Tricia for Weekly Wrap.