It's gorgeous here, but these glory days of Indian Summer will be in the rear view mirror and things will be, shall we say, more seasonal very soon. Read dig out the fleece socks and crank up the heat. Living in the Midwest, I'm used to harsh winters but the polar vortices we've experienced the past couple of winters have definitely been a challenge for us runners. I'm all for a brisk winter run, but face it, a quality pace workout is not in the cards outdoors if it's icy out. That's why it's never too soon to think about how you'll train through the winter when the great outdoors is not your best option. That's right I'm talking about the treadmill. I'm sharing my secrets for how to make the mill one of your besties.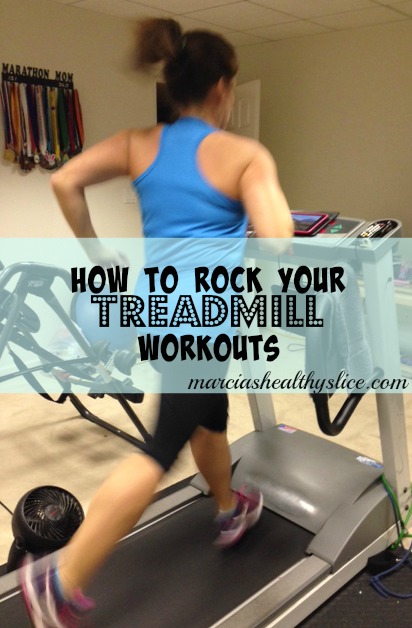 Stop calling it nasty names.  If you have a nice name for your mill, fine. But none of this "dreadmill" stuff. Let's be positive here.
Have a plan before you start. Are you doing speedwork? A tempo run? Running aimlessly with no goal for the workout just sets you up to lose interest and stop way too soon.
Pimp your space. My go-tos in the pain cave are a fan, plenty of water and the TV tuned to Cupcake Wars, Barefoot Contessa, Pioneer Woman, not sure what it is about the Food Network but it's my treadmill jam. Club music or a podcast works if I'm at the gym. Don't ask. My point is do what make you happy.
Cover the console if you must. When I was a new runner I swear this is what got me through. I couldn't stand to see how slowly time and my distance crawled. So I threw a towel over the display and focused elsewhere.
RunSocial. The new RunSocial app enables you to run with friends virtually via the convenience of your tablet. If you prefer to go it alone, there are tons of scenic courses you can download and enjoy on your own. Choose from Alpine Trails, Sequoia National Forest, Death Valley, Tropical Gardens in Bali and more.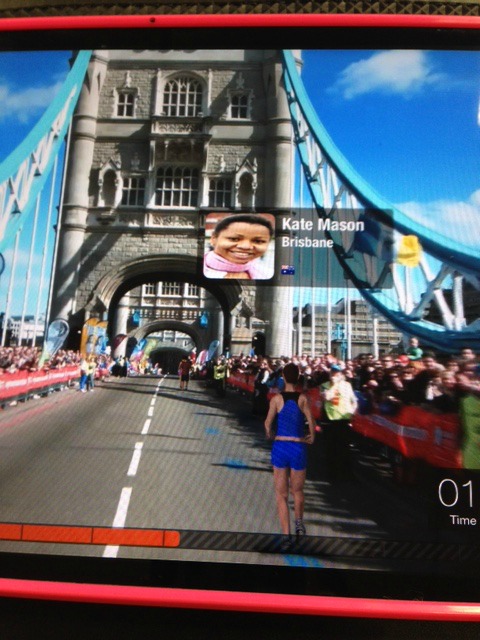 Some of my favorite RunSocial routes are marathon courses. I've been obsessed with the London Marathon. It feels like I'm running across the Tower Bridge in London, complete with spectators cheering, cowbelling, etc. It makes me want to go run London for real more than ever. If you're competitive, you'll love that RunSocial has others on the course. So you're passing people as you run….and maybe people are passing you too.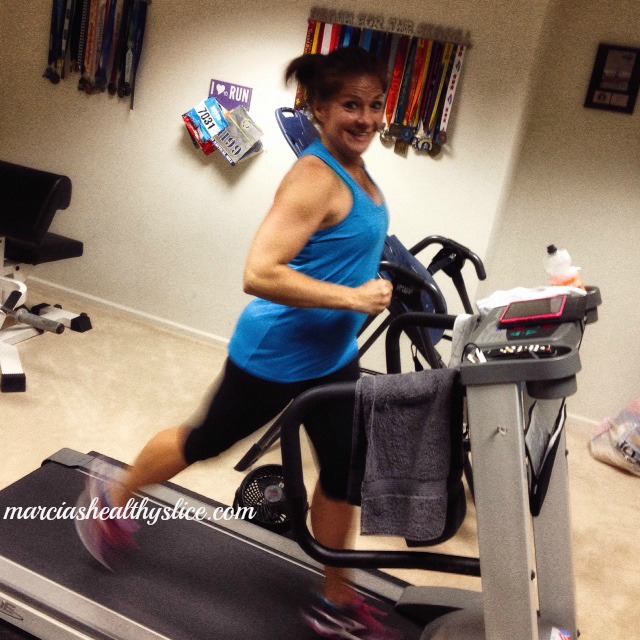 The other night I participated in a RunSocial virtual group run. We all hopped on our mills with our tablets on the grip pad that holds it nicely in place, at the appointed time and started running. Together we enjoyed a scenic 10k course high in the Swiss Alps. Based on the paces we ran, we could see each other and the display showed how far ahead or behind other runners were. It was unlike anything I'd ever done running-wise and very cool!
How do you train through the winter? Do you love the treadmill? Or loathe it?