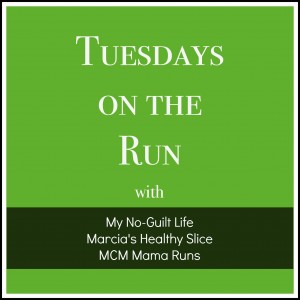 Welcome to another edition of Tuesdays on the Run! This week's topic is Running Playlists. Do you love to run with music? I do now, but truth be told, I was hesitant at first. I welcomed it on the treadmill but felt like it interrupted my "oneness" with nature when running outside.
Slowly it grew on me though and now you'll find me with music most days. Typically I do not run full marathons with music, although I did at NYCM. I still have my NYCM playlist and it brings back great memories.
At Rock n Roll Vegas this past weekend, my tunes pooped out around mile 2. WTH? I intended to pull over and get them restarted but I never did. The visual impact of that course was more than enough. Stay tuned for the race report.
There are a few songs that have a permanent spot on my playlist. Ironically I wasn't the one who put them there. The  Caveman "surprised" me with them eons ago when I was a much newer runner. What did he add?
A couple of tunes by Boston. Because he believed in me long before I ever did.

…and we can't forget this one, also added lovingly by the Caveman. Because who isn't pumped up by football?
To this day, these make me smile. Every. Single. Time.
Do you run with music? What's on your playlist?