Ok friends, here we are, a brand new year and it's time already to vent a Runfession or 5. Can you believe how fast even cold, cruel January is flying? Share your run-, gym-, swim- heck any confessions are good, the jucier the better and link them up at the bottom of this post. Visiting as many other linkers as you can results in all kinds of good karma so be sure to do that. Let's get to it!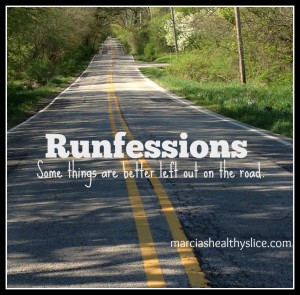 Runfession 1: Greed
All these great Nuun sales are flying about the internet so I went to my trusty Nuun storage tank, I mean canister and took inventory. After counting a paltry 11 tubes, I tee'd up an order. But after seeing that shipping would cost half as much as the Nuun itself, I backed away. Hoarding averted.
Upon closer inspection, and reading reviews on the Costco website of people receiving Nuun with a very short expiration date, I went back to my Nuun stash and discovered some of my tubes were indeed nearing the "end". One in fact had expired in January, 2 years ago. Whoops! A saner person would have tossed that tube. Me? Well I used it up of course. I live to tell about it.
Runfession 2: Sloth
After seeing everyone's dazzling and gorgeous Disney medals, I couldn't help but think back to the first time I did a multi-race weekend. It was the Flying Pig 3-way challenge in Cincinnati back in 2014.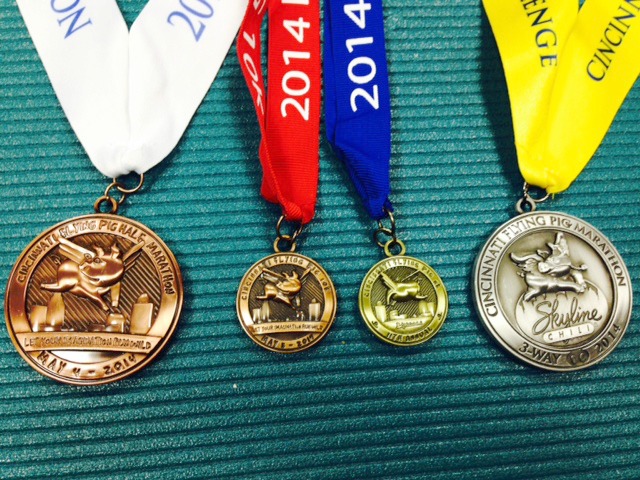 I ran the 5k and 10k back to back on Saturday then the Half Marathon on Sunday to net me a medal for each race plus a bonus medal for completing the challenge. Because the sponsor, Skyline Chili, is extra awesome, they gave us a beautiful medal hanger so we could display our spoils. I runfess that the medal hanger is still laying somewhere, unhung…almost 2 years later.
Runfession 3: Wrath
I may swear under my breath when a car doesn't move over one single millimeter when I'm out running on a road shoulder. If said car fails to move over AND is speeding, I may say….ok shout…profanities…sometimes.
Runfession 4: Envy
I'm ashamed to say this but I'm already tiring of my tri suit, the notorious Tris(c)uit.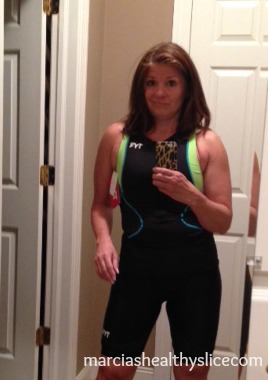 The one who served me so well in all 3 of my teeny tiny triathlons so far. To be honest I'm coveting my neighbor's (over on Instagram) tri suits. You know the ones from Betty and Tri Flare and Wattie Ink. The ones I'd need a second mortgage on my home to get. There I said it.
Runfession 5: Lust, sort of?
We haven't gone out on NYE in ages but this year we were invited to a work-related shindig that was kind of, sort of mandatory. Not to name drop but this party had heavy hitters. Think Palo Alto internet luminaries on a first-name basis with the likes of Zuckerberg. One of these heavy-hitters is president of a company you all know and use daily. At the end of the night, she leaned in to give me one of those perfunctory air kisses that are so popular among people you barely know. Thing 2 was standing between us so that made the lean-in very awkward, especially cuz I was teetering in heels. So in I leaned, but at the last second, insanity set in and I decided to go right instead of left where I belonged. She went left as well and before I knew it, we kissed. On the lips. I swear only in my world does stuff like this happen. I was so grateful to be getting out of Dodge!
See how virtuous I am? I only committed 5 of the 7 deadly sins. What runfession do you have to share?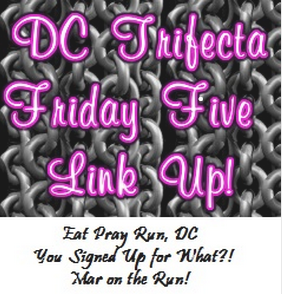 I'm linking up with Courtney, Cynthia and Mar for the Friday Five.