One of my goals this year is to drop 10 pounds and one of the keys to doing that is to finally, once and for all go sugar-free. The weightloss part of the equation is very much a work in progress but you know what? January came and went….and….here I am….sugar free….sshhhhhh! I don't want to alert the sugar powers that be. How on earth have I stuck with the sugar-free part of the equation this long? I am feeling pretty triumphant, if I do say so myself.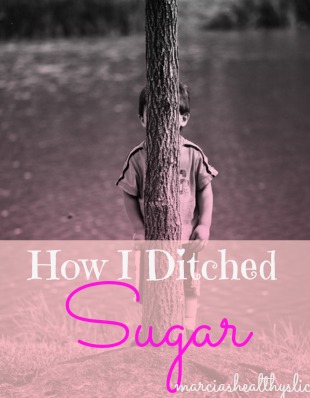 Get rid of trigger foods. Does having cookies in the house unravel you? Does eating one fun-size candy bar unlock the gateway to an afternoon sugar binge? Identify the foods that knock you out of your groove and get rid of them. Mine is that devil otherwise known as Chicago Mix Popcorn. That irresistible blend of caramel and cheese corn is my kryptonite. I could easily wipe out an entire bag then have the urge to move on to other sugary treats.
Take in more protein. Start every day with a good protein-rich breakfast that keeps you satisfied and sets you up for success all day long. Then include protein with every meal.
Don't be afraid of good fats. Think avocado, coconut oil, nuts. Yes these are all calorie dense so you have to be careful but they're quite satisfying as well.
Eat plenty of nutrient-dense foods. Focus on what you CAN eat. Roast up some sweet veggies like sweet ptatoes and butternut squash. Try for as many whole and unprocessed foods as possible. After just a few days your taste buds will acclimate and appreciate the naturally sweet taste of healthy foods.
Drink plenty of water. I still fail at this sometimes, but often thirst is mistaken for hunger.
Be mindful. I'm listening to my body and heeding its cues. My food journal is still going strong. Who am I?
Ready for the KEY to Sugar Free?
Prepare for cravings. What will you do when a sugar craving hits? Because it will. At least for awhile. Oranges worked well for me. Sweet, plus the peeling aspect occupied me longer. Getting away from a place I typically snack like out for a walk works for me too. I also finally FINALLY made some protein bites. You've seen these everywhere, right? I was inspired by the queen of the balls herself, Lindsay over at Cotter Crunch. Those are her chocolate coconut bites in the pic. The others are my freestyle bites. I pretty much threw in whatever goodness floated my boat and know what? I hit it out of the park, if I do say so myself. I'll share the recipe here in a sec.
Set Rules. Here's the thing: My protein bites are not sugar free. There's honey in them plus a few dark chocolate chips. They are by no means low-cal. But they're made from whole, nutrient-dense foods. If I ate them with abandon, goodness knows I'd gain weight and take in plenty of sugar. So I set parameters. One, maybe two balls as a snack or post-meal dessert if I crave something sweet. I've been able to hold up my end of the deal. In a day I never eat more than 2 or 3. The protein in them wards off a sugar crash and I feel satisfied long enough to move on to other things.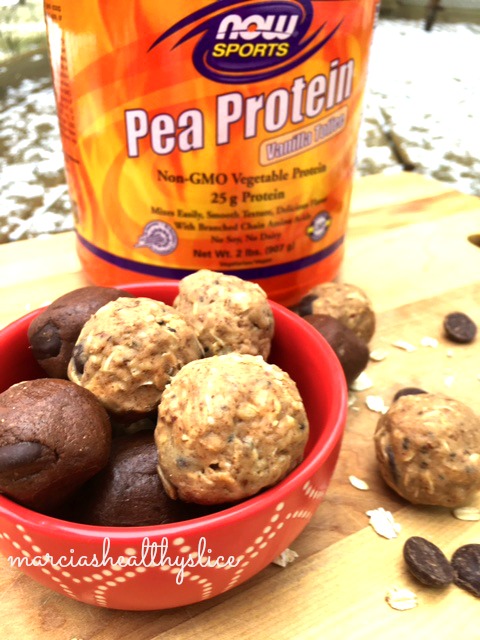 Freestyle Protein Bites
Inspired by Lindsay's delicious bites, I decided to try making my own. The freestyle aspect of these is you can use pretty much whatever ingredients you have in your pantry. Seeds, dried fruit, nuts, hemp hearts, it all works. The Caveman and kids love them too. Maybe a little too much since I can't seem to make them fast enough to keep my stash stocked. Since Thing 1 started her 2x/day track workouts, I'm focusing on nutrition more than ever before to keep her properly fueled for her arduous schedule. Give these a try and let me know what you think!
| | | |
| --- | --- | --- |
| Freestyle Protein Bites | | Print |
Prep time:
Total time:
Ingredients
1C Old-Fashioned Oats
1 Scoop Now Foods Pea Protein
½C Nut Butter of your choice. I used almond.
⅓C Honey or maple syrup
1T Chia seeds
2T Ground flax seeds
3T Dark or bittersweet chocolate chips
2T Melted coconut oil
Pinch of salt
Pinch of cinnamon
Instructions
Combine dry ingredients.
Add in wet ingredients.
Mix together and form into balls. Chill until set. Enjoy.
Store in fridge up to two weeks.
How do you beat sugar cravings?
I'm linking up with Deb for the Wednesday Word, which is triumphant.