This week's Tuesdays on the Run topic is Race selfies and Photobombs.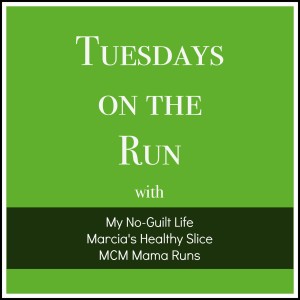 I'm going to divert a bit from that topic today because I've got more RnRDublin goodness to share with you.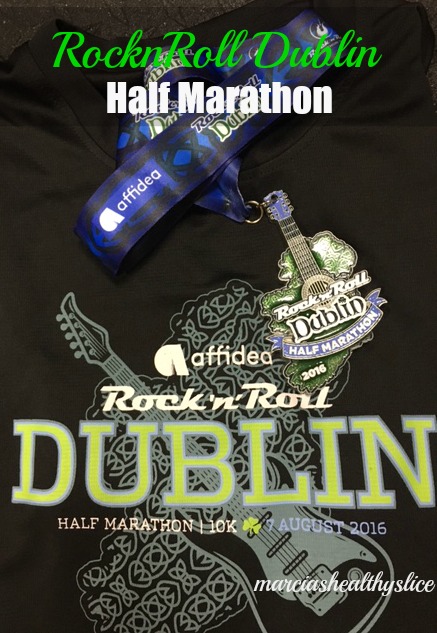 When I left off, we'd just (barely) finished the 5k, received our medals and race packets (bassackwards). If you missed it, find out what happened here.
The plan for the rest of the day was low-key. We had tickets for the hop-on hop-off tour bus so I could save my weary self for the next day's half marathon. We caught said bus right in Phoenix Park. Go us! Even better, it stopped at Trinity College where the race expo was, so off we hopped, easy peasy.
The last time I'd been to Dublin was 18 years ago. The Trinity College I remember from back then had a gorgeous grassy courtyard. Visions of strolling the expo in that courtyard danced in my head. When we got there, the courtyard was still lovely but the expo was not in it.
Construction going on in and around Trinity College made the entrance so congested it was almost inaccessible. Once we fought our way in, we discovered there was essentially no "expo" at all, but rather a rudimentary packet pickup, sort of in a hallway, jammed with people, of course.
I counted the number of vendors on two fingers: CEP and someone else, possibly a local running store. That's ok, what I left room for in my suitcase for was some cool RnRDUB gear, and of course a pint glass for the collection.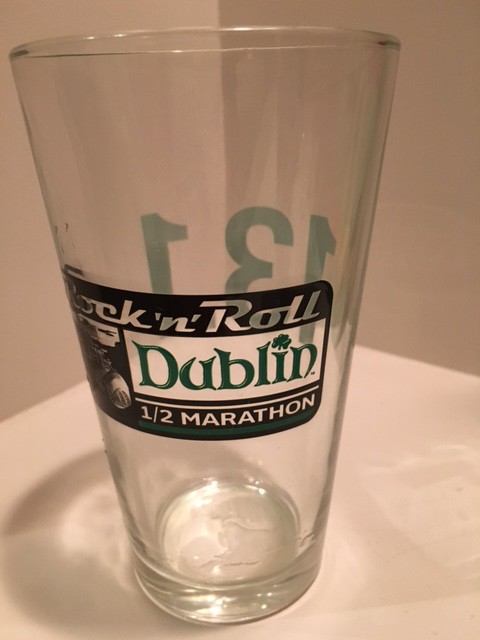 What little race gear there was, was disappointing at best. Not even a 5k shirt for the teenager. Sigh. I did score a pint glass though, although trying to pay for it with a credit card proved impossible. Thankfully I scared up some leftover Euros in my running belt. Ok enough on the cluster that was packet pickup. At least I had my bib!
Half Marathon
The following morning, I took no chances on public transportation. I was in a taxi headed for 3 Arena bright and early and got there in plenty of time to find fellow RocknBlogger, Renee and Ron. Yay!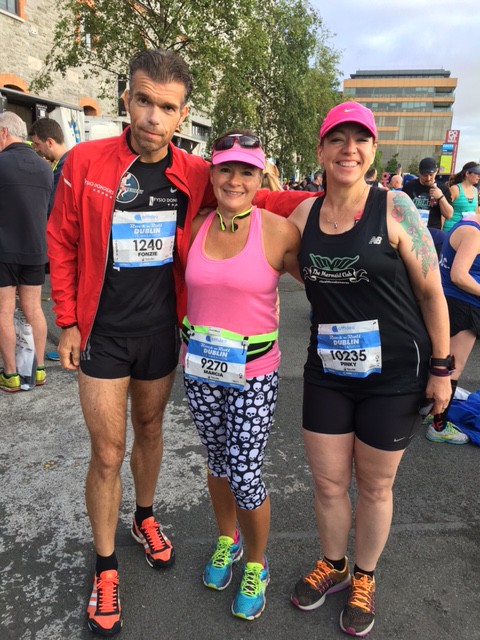 It was as I was talking to Renee that it occurred to me: I'd forgotten the wristband I made such an effort to get at the 5k the day before. The wristband I needed to receive my Remix medal at the end of the half. Crap. I'd been rummaging around in the dark at the hotel so as not to disturb the sleeping teenager and I'd left it in the envelope. What else can go wrong?
Part of the confusion of this race weekend, is that each of the 3 races (5k, half marathon and fun run) starts in a different place.  The half marathon was a point to point race that ended in Phoenix Park. The teenager planned to run the fun run, which took place after the half, but after realizing she'd have to trek out to Phoenix Park on her own while I ran the half in, she opted to skip it.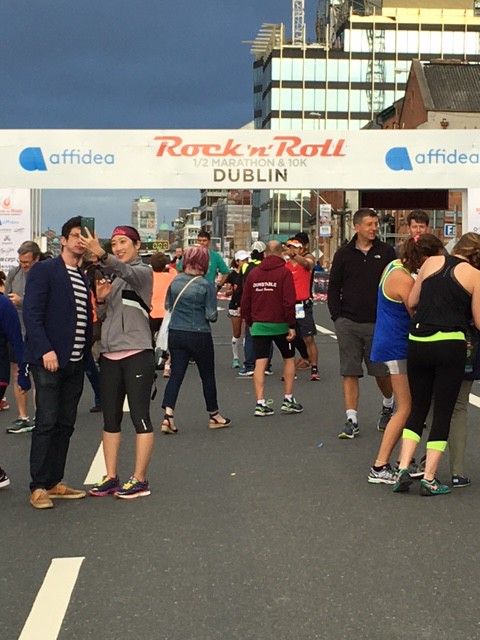 Unlike Saturday's perfect weather, it was downright windy for the half, with a few drops of rain thrown in. I checked gear and headed to the corrals with plenty of time to spare. Roughly the first half of the race would run along the Liffey River through the City Center then enter Phoenix Park for the remainder.
Race Goals: Run Happy
The low-60's temps were pretty perfect. So much cooler than anything we've had in Chicago all summer. But still I had no plans to race. I'd done a poor job of hydrating and didn't even have to hit the porta-potties pre-race. Has hell frozen over?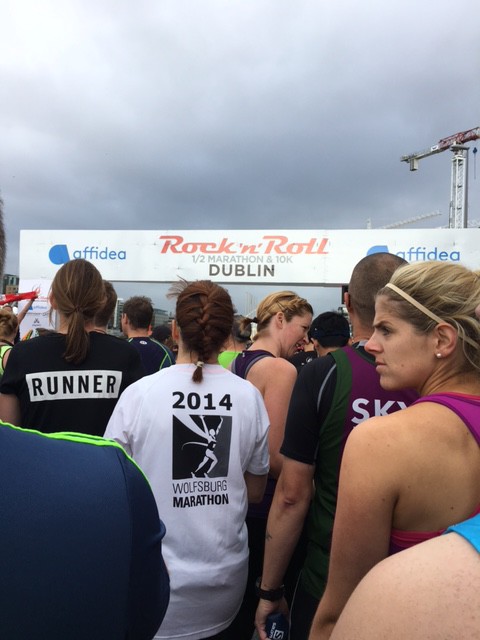 We were off hard into the wind, reminiscent of NYCM. The wind was so strong, my visor that never comes off, blew right off my head, and went airborne behind me. I spent a few minutes running backwards into oncoming runners in pursuit of it, hoping it would not get trampled. Joy.
Running along the river was nice, except for the few times we'd duck into a side street there was inevitably a hill hiding back there. I'd failed to look at any course elevations and had zero hill training under my belt. C'est la vie.
Water stations were every couple of miles. Except for two of them though, only water was available. At about miles 6 and 10, they gave out big (24 oz) bottles of blue Powerade. Most people took one sip then whipped those suckers on the ground. So wasteful. I carried mine for a bit.
This is not a flat course. Miles 2 and 3 had big hills, and mile 4 was more or less all uphill. So was mile 8. When we entered the park, the path undulated quite a bit. It was gorgeous, but the terrain wore on me. There was a band in each mile, which I appreciated. Especially the one at mile 8 that distracted me from the agony of the incline with their rendition of Billie Jean. By mile 10 or so I was more than ready to be done.
I spent the remainder of the race not caring one iota about my time. I wogged and soaked in the experience before bringing it in for the finish. I was still wondering how the heck I'd convince them to give me a remix medal without my wristband.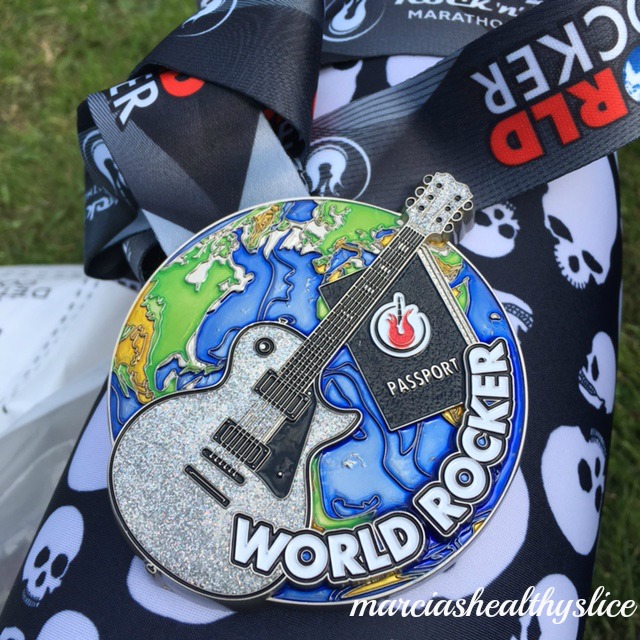 I explained my plight to the guy at the tent where I retrieved my World Rocker (run a RnR half or longer in 2 different countries in one calendar year) medal. He could not have been nicer and before I knew it, my Remix medal was around my neck as well.
About an hour after finishing the half, I needed to complete the Fun Run. Because, you know, #alltheraces. The Fun Run was a quick 1.86 mile affair. I couldn't have felt less like doing it, but I got it done.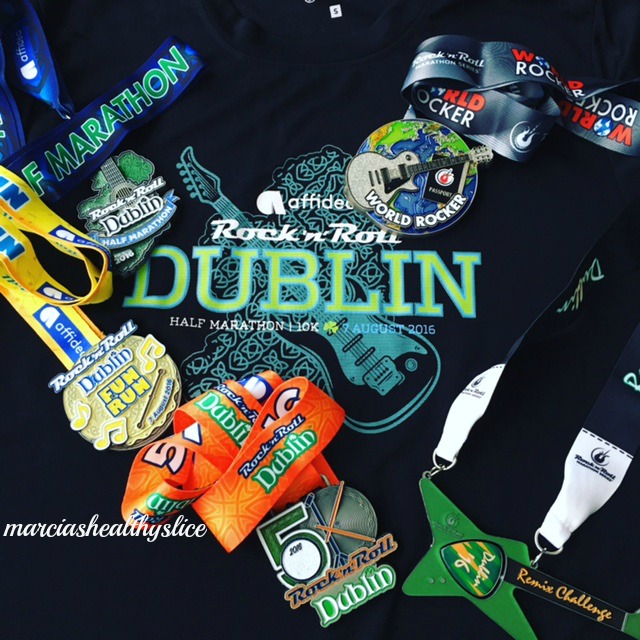 Final Words: Despite the disappointments and logistical nightmares, this was a really fun weekend. Running through Dublin was a fantastic way to tour it. The Irish people are wonderful and we got pretty lucky with the weather, wind notwithstanding. I love the medal haul. The shirt design is nice, however the shirt is man-sized. I got the smallest one and still the sleeves are down to my elbows. Oh well.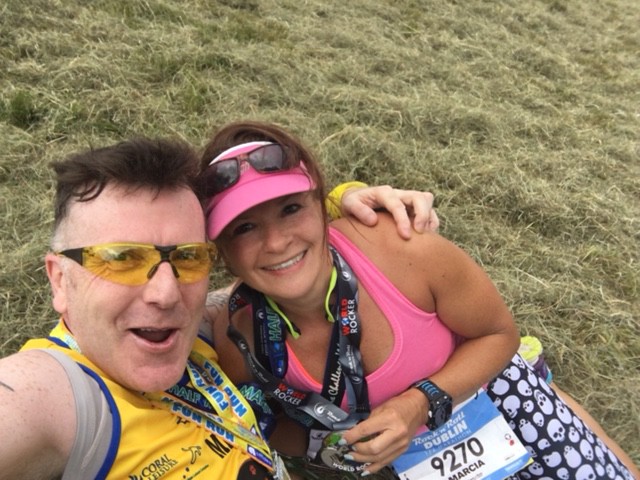 ….and because the linkup topic is fun race selfies and photobombs, I had to include this one of me and my new Irish friend, James.
Have you raced in another country? Done a RocknRoll race? Did you enter my giveaway?
Loading InLinkz ...