This week it's all about the taper on our Tuesdays on the Run linkup. Do you look forward to the taper? Loathe it? Do you have phantom niggles? Cravings? Fits of self-doubt or paranoia? Tell us all about your state of mind and body in those final weeks before race day.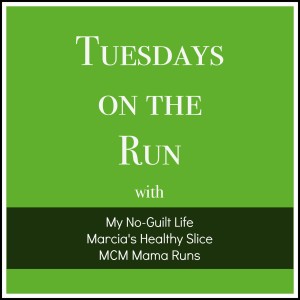 Because we're fresh off of an epic Chicago Marathon weekend, I'm going to stray off topic a bit this week and fill you in on some of the highlights.
First up: Meb and Sarah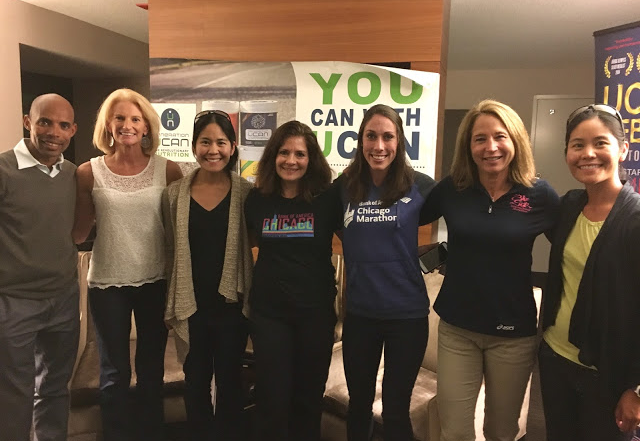 As I told you in my previous post, I was invited by Generation UCAN to a live Facebook interview with elite runners Meb Keflezighi and Sarah Crouch. Although getting into the city at rush hour on a Friday afternoon with the marathon, the Cubs game and the President in town would be a PIA of the highest order, I was on a mission.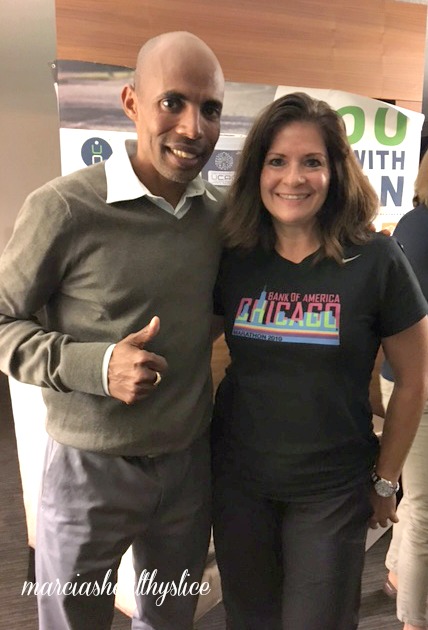 I'd first met Meb years ago at a RocknRoll Chicago expo and then again last year at RocknRoll Vegas when I ran with him in his corral (for about 17 seconds). But this time? My friends and I had the privilege of kicking back and chatting with Meb and Sarah for a couple of hours, soaking up their running wisdom.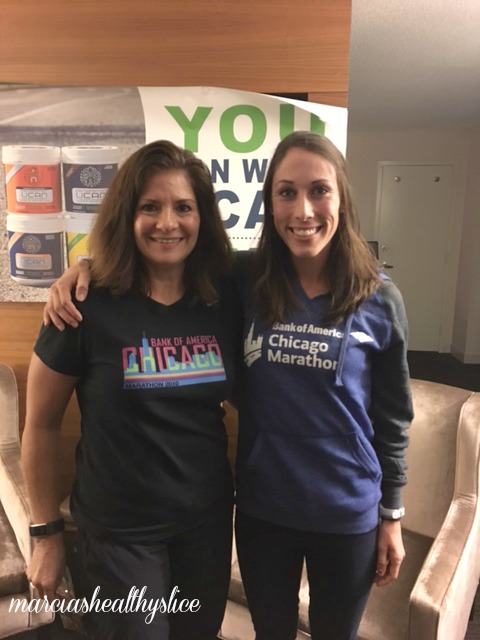 I was so inspired by their words and their perspectives on running, racing and life. I swear, that inspiration helped me dig deep when the going got tough to get my 20 miler done the next morning. I highly encourage you to watch the replay of the live Facebook event.
Race Day
Just ask any runner: Chicago Marathon day is one of the very best days in the city. I got up dark and early to make my way to the train. Since I last ran this race in 2010, I've either volunteered, or spectated or both, each year since. It has become my tradition. I remember vividly how stunned and overcome I was by the crowds lining the streets when I ran my first Chicago back in 2007. It was overwhelming in the best way. To me they weren't simply spectators, but an integral part of the race. Especially in 2007 when temps and humidity soared, the crowds literally kept me going. They brought out garden hoses, wet sponges, cold orange slices and more. Without them, truly I'd have been in trouble. Chicagoans are a gritty, tough, loyal bunch. I am proud to be part of that.
Let's get to this year's action: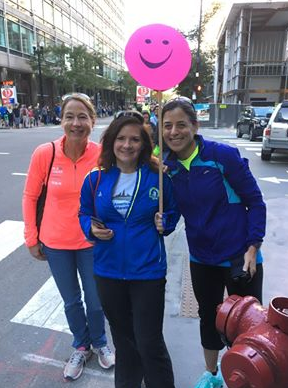 This year conditions could not have been more perfect. Nice and cool. As per usual, Erica was at our "blogger press box" first, right at the corner, at the 13th mile marker. Wendy and I arrived just in time to see the elites come through.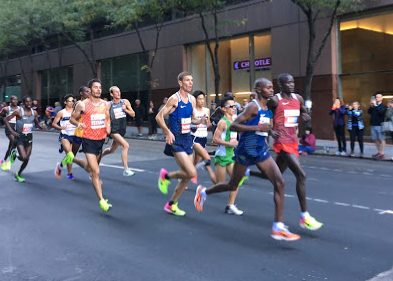 Runners have a slight incline on the bridge over the river then cruise down a gentle decline at 13. Wendy had our "runners of interest" all logged into the tracking app so we could hopefully catch everybody. It was fun to see first the lead packs, followed by a trickle of fasties and then a flood of the masses.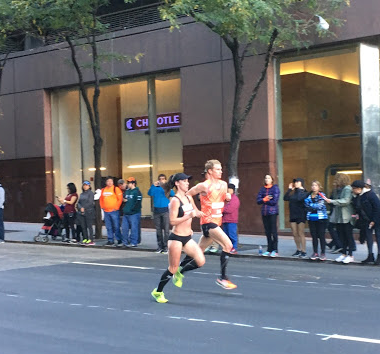 First through was none other than our newest BRF, elite Sara Crouch. She was gunning for a sub 2:30.
Next was Pete from The Lakefront Trail. He's had an amazing season. Would this be the sub-3 race he is so capable of? That is not my story to tell so I'll let you go check in with him. What I will tell you is he looked vibrant and speedy at 13. It's always great to see him fly by.
Next came Sarah from Cheesy Runner Mom, with Laura Fit Running Mama hot on her heels, looking strong.
Sherab, Jose and Runner Maddie, all part of my Instagram tribe, came through next.
Sharon from Run Hike Play finished her first marathon! I can't think of a better marathon to run as your first! She was radiant.
Courtney from Eat Pray Run DC trucked past like a boss.
Zenaida was glowing and looking strong as well.
Sorry we did not get pics of everybody. The tracking app did a great job of draining the phone battery!
Every marathoner has a story and I'm going to let Holly tell you hers herself. I will say, that brilliant smile of hers sums up her very being. She is grace personified. I loved meeting her, although it felt like I've known her for years.
I've learned something from each marathon I've run. We discover things about ourselves. We find strength we didn't know we had. No matter how great our training may go, the day may dish up something unexpected, good or bad. Nobody runs a marathon in a vacuum. A good support system is very much a part of the equation. Despite how much a marathon hurts, it's such a glorious, celebratory day. As a spectator and runner, its so gratifying to watch other runners fulfill their dream, whether it's their first marathon or their 50th. With all the pettiness and uncertainty in the world right now, it was good for the soul to spend a weekend marinating in love and positive vibes.
As Meb so thoughtfully said on Friday night, we set our A goal and B and C and maybe D but sometimes none of those are reachable so we dig deep and give the best we have that day. That is winning.
Congrats to ALL of the winners out there! Have you spectated a marathon? 
Taper quirks:
Loading InLinkz ...