This week's Tuesdays on the Run linkup asks a question: How are you different now compared to when you started blogging? For me that's an easy one. When I started blogging back in January, 2009, I'd just run my second marathon and qualified for Boston. I had a 3 yr. old and a 7 yr. old and my blog was a creative outlet and a journal of my training for Boston. I had a pretty rigorous workout schedule. Every run had a purpose. Every mile had a pace and every race had A, B and C goals. I was terrified the Boston Hills would eat me alive and to put it simply, I was doing everything in my power to make Boston as enjoyable (least painful) as possible.
Fast forward almost 8 years and my motives have changed. A lot. I've come to love the running/blogging community. I race mostly for social enjoyment. I'm no longer chasing PRs when I race and compete against nobody besides myself, and most of the time a younger fitter me kicks the current me's booty. But you know what? I'm still having fun. I can tell you with 100% certainty there's life after PRs. Sure there are aspects of aging that suck, but truly it is the way you perceive and react to them that matters. With that, I bring you the race report from this past weekend's Indiana Monumental Marathon. The 10th time I took on the 26.2 distance.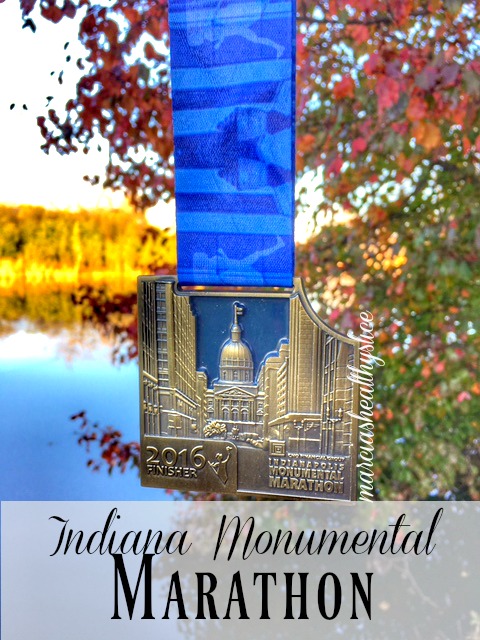 A year ago when Tara, Jill and I ran the Twin Cities Marathon, we agreed we'd meet again in a year to run Indy. I for one ducked out of a New Years Eve party a few minutes after midnight to score the bargain basement deal online. How's that for dedication? Or is it cheapness?
Last Friday I got the kids off to school, loaded the car, headed to the airport to pickup Jill then we road tripped to Indianapolis while Tara drove from Missouri and Karen from Iowa.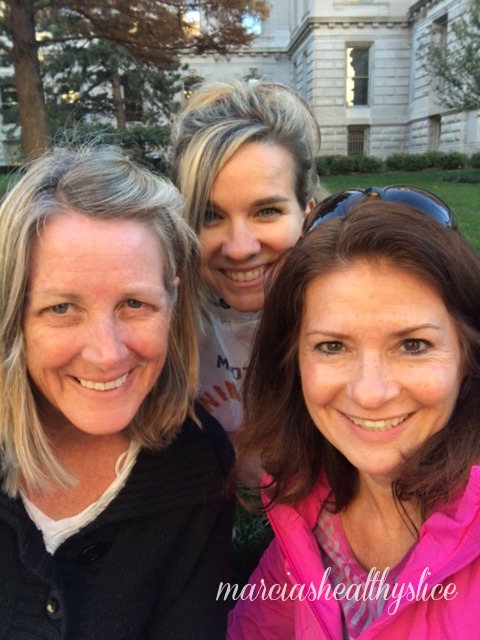 Jill, Tara and me.
The expo was our first order of business. Packet pickup was easy enough. The expo was just ok. No pint glass for the collection, but I did score a hoodie and found a tee from last year on clearance.
Next up was the race-eve festival of carbs, which took place at Giordanos. We scored a table at the bar to avoid the wait and the place got packed to the rafters with runners shortly after.
Race morning dawned cold and clear. I vacillated between a tank/sleeves and a long sleeve 1/4 zip. The tank won out and as soon as we stepped outside, I knew it was the right choice. 37 degrees didn't feel that cold. Go figure.
Gear check was quick and easy. I wish I could say the same about hitting the potties. As we headed toward the corrals we spotted a small bank of potties with a line 3 blocks long. After a few minutes we knew darned well we'd never make the start of the race if we stayed in line so we looked in vain for other options. No other potties in sight. We were still wandering and scoping for more potties when the anthem played so I gave up and headed to the corrals, which were overflowing by now.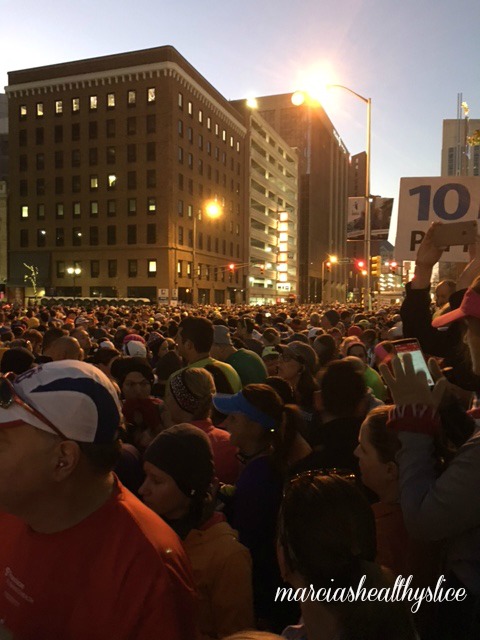 All I could do was wander toward the back and wait on the lawn at the side for runners to start moving forward. From my vantage point on the lawn I could see two additional banks of potties on the OTHER side of the corrals. There was no way to get over there. I decided I'd just have to stop and go when I saw potties on the racecourse. C'est la vie. When I was finally able to enter the corrals, I was well behind the 5hr pace group.
As we inched forward a woman lined up in front of me asked "Is this your first 5k marathon?" I noticed she had the green 5k bib on. The 5k was scheduled to go off 20 minutes after the half and full marathoners, yet here she was in front of me. It was then I heard the announcer tell the 5k peeps to head all the way to the back. Nobody moved.
Eventually I'd cross the starting line. Good thing I was "fun running".
Goals: Run happy, be grateful. Any day I can run any pace is a great day.
Trust me when I say my training this summer has been lackluster and uninspired at best. Three weeks ago my thyroid meds were changed and let's just say the effect has not been favorable. I can't get back into the doc to retest for another month. I am tired and sluggish on my best day. The plan was to make it to mile 13 then see how far I could get before I needed to board the struggle bus. I'd keep an easy breezy pace and try to hang on as long as possible.
Because I was so far back (my own fault) I was stuck behind tons of walkers. I don't mind walkers but I do mind when they walk 5 across. I made the best of it and told myself they were saving me from going out too fast. I crawled along behind the walkers, sort of incredulous that so many wanted to walk a freaking half marathon. Sounds vile to me. At the mile 2 water station I spotted some port o pots and got in line. I was not going to repeat the mistake I made in Twin Cities of never going and being miserable for 26.2 miles. The trouble was there were 25 runners ahead of me in line. This would not be a quick stop. The clock ticked as I stood there. Sigh.
When I finally rejoined the race, I was well behind the 5:30 pace group. Ugh. The 3 mile water station was already broken down halfway. Yikes. I'd never been so far back in a race before.
I resisted the urge to speed ahead to make up time and tried to find my pace but the course was still so crowded. My entire first 10k was crazy slow. The course was still crazy crowded all the way up to the half marathon turnoff at mile 7. More than twice as many people headed in for the half leaving the marathon course refreshingly open. Phew! I settled in behind a lady in a pink tee.
We headed up the edge of a road with just a few cones separating us from heavy traffic. Not my favorite way to run. This part of the course was pancake flat, yet my left ITB ached. Would this be a problem today? I found my pace, but I also noticed a twinge on the right of my back above my bra line. Chafe alert. Ugh. I kept an eye out for Vaseline.
I passed the halfway mark expecting to start taking walk intervals but I still felt good. At mile 14 my tunes stopped and it was getting warm so I took a break, restarted my music, pulled down my arm sleeves and assessed the chafe. Yowza it was a rager. I blame the sleeve.
Miles 16-18 were purported to have some hills so I took it easy on those. I decided to check my Band II to see the crazy amount of steps I had only to discover it wasn't on my wrist. This stopped me dead in my tracks. Could it have fallen off at 14 when I was messing with my music and my sleeves?? Sadly there was nothing I could do about it now so I continued on, bummed. The water stations were getting interesting. They had big baskets of candy. Snickers, Kit Kats, pretzels. bananas. I took none of it. I was still hanging with the pink tee lady.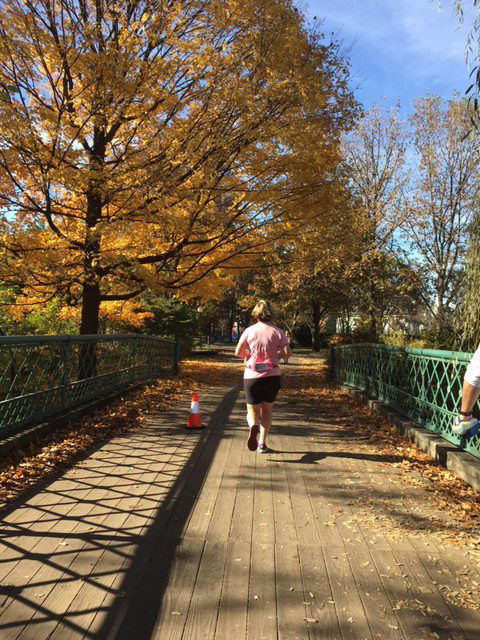 My pink tee pacer lady. 
We went through a very pretty park filled with yellow foliage. It was short lived though. The miles continued to click away. I wondered when I'd really start to struggle.
After mile 18 I hoped for a screaming downhill that never came. Mile 20 was hard, but I was still hanging in there. 21 was entirely uphill, which I did not appreciate. 23 was on the side of a steeply banked and chewed up road. My hips did not approve. At times I jumped up on the sidewalk to run on a flatter surface. As much as I said I didn't care about my time or pace, it was in the final 5k that I decided I really did not want to be over 5 hours. Even if 10+ minutes of it could be attributed to the longest potty break of modern times, I still really wanted to get in in 4 something.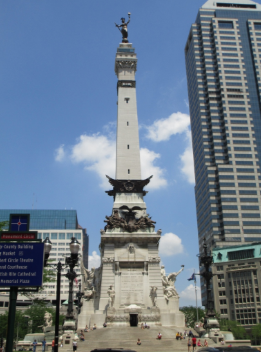 The final miles weren't fun but are they ever? With just a couple of miles left to go, the Soldier and Sailor monument was in sight and quite lovely. I was hurting but it wasn't anything I couldn't manage. Just finish. Just finish. Just finish.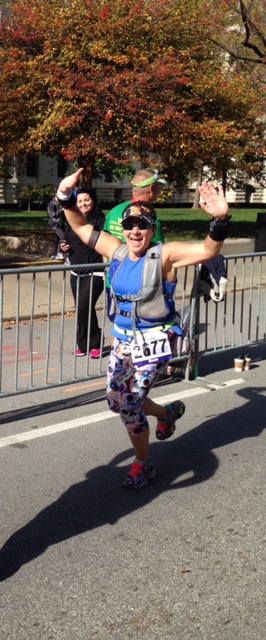 Finally we were back in the city and I could smell the finish. I entered the barricade area and heard Tara, Jill and Karen yelling for me (they'd run the half). It was here that I finally passed pink tee shirt lady and I couldn't believe it as I'd been behind her, admiring her consistency since mile 13. At last I made the final turn and brought it home.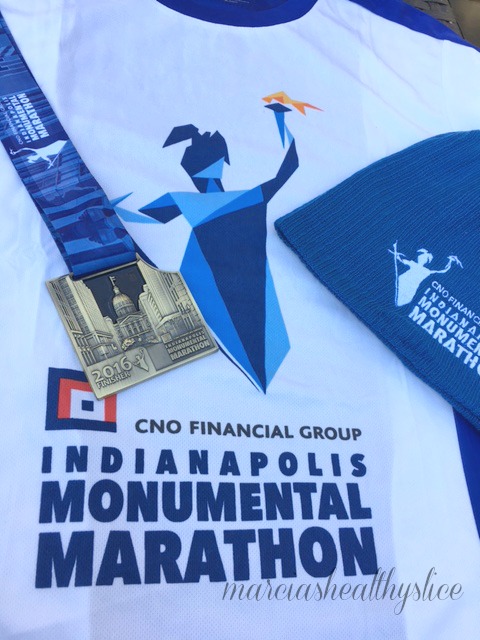 Finish Time: 4:49. Nowhere near a PR but not a PW either, even with the potty fiasco.
Good: I felt good throughout the race. No GI issues. The course is pretty. The first half is pancake flat (a love match for me). I stayed on my fueling schedule and my hydration pack lasted until mile 25. Race swag is good. The medal has grown on me. The race shirt is ok but I'll likely never wear it because I rarely if ever wear short sleeve shirts. I appreciate the extra hat and it fits well. Despite so many cars stuck in a mega traffic jam along the course, many of the drivers were so kind and cheered for us as they sat waiting. Weather was perfection. Turns out I didn't lose my Band II at all. It was back at the hotel on the charger. Boom!
Bad: Not enough potties at the start. Long potty lines at all water stops except the very last ones. The corrals were a mess. 5k runners need to stay clear of the corrals until the marathoners go off. Spectators are sparse. There were some awesome ones who rocked out the cowbell but there were plenty of long, empty stretches too. Too much of the race was on busy roads not closed to traffic. Many of these roads were gridlocked with traffic and we were left to smell the exhaust. In the back half there were many side streets that did not have police or a course marshal directing traffic so cars drove across the race course whenever. I had the queen of all chafes from one of my sleeves.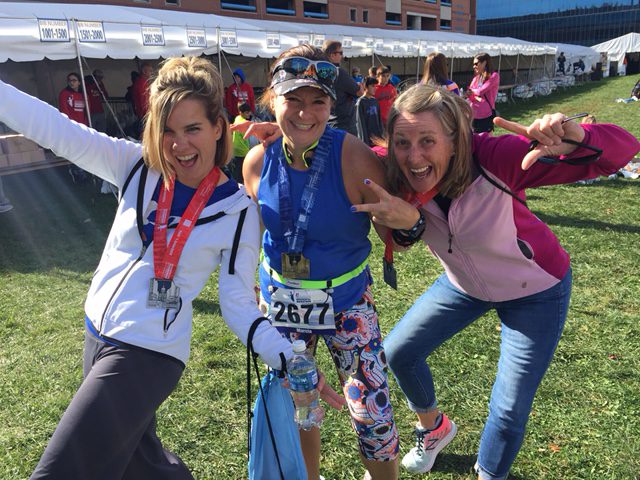 Final Words. This was a fun race and we had a freaking blast all weekend. I didn't set the course on fire, but I'm oddly satisfied with it. I ran the race I trained for so I really cannot complain.
Congrats to everyone who raced this weekend! Now it's your turn. Have you changed as a runner or otherwise since you started blogging?
Loading InLinkz ...