Truth: Whenever I make pancakes or french toast, I sneak protein powder into the batter for a little nutritional punch and staying power. Always. The kids have no idea. I'm not sure they'd care one way or the other. They're just grateful to get pancakes on a regular basis. I loved the flavor and aroma of cinnamon when I made my Cinnamon Crunch Protein Bites so much, I had an idea: What would you get if you crossed a pancake with a cinnamon roll? So into the kitchen…I mean laboratory…I went.
I mixed up a super simple pancake recipe which I'll share in a moment. I added in a packet of Quest Cinnamon Crunch Protein Powder. Feel free to use your own pancake recipe, or even go ahead and use a boxed mix, I won't tell. Then I created a "cinnamon swirl" mixture with melted butter, brown sugar and cinnamon. When I poured the batter on the griddle, I hit each cake with a spiral of the cinnamon swirl mixture. See where this is going?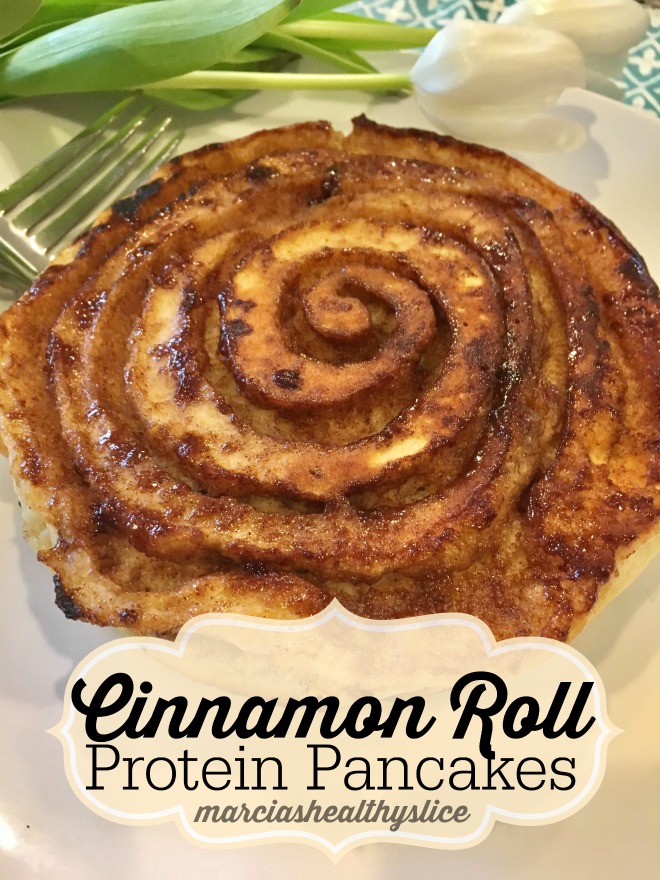 Go ahead and pin this. Trust me you NEED to make these!
Words cannot express how fragrant and delicious these cakes are. Seriously the entire family (even Mr. Paleo Caveman) lined up for them and gobbled them down. You could go way over the top and create a cream cheesy icing for these, but honestly? They're so delicious just as they are, they don't even need syrup. It's pure, cinnamon roll heaven. If you're careful about sugar like I am, just put less cinnamon swirl on yours. Thanks to white whole wheat flour and the magic of protein, a single pancake totally filled me up and kept me satisfied for hours. Find Quest Cinnamon Crunch Protein at your local GNC store.
Cinnamon Roll Protein Pancakes
| | | |
| --- | --- | --- |
| Cinnamon Roll Protein Pancakes | | Print |
Prep time:
Cook time:
Total time:
Ingredients
1-1/4C flour (I used white whole wheat)
¼C Quest Cinnamon Crunch Protein Powder
2t Baking Powder
1-1/2C Milk
1 Egg
3T Butter, melted
1t Vanilla Extract
Pinch of salt
Cinnamon Swirl
5-1/2T Brown Sugar
¼C Butter
1-1/2t cinnamon
Instructions
Pancakes: Combine all dry ingredients in a mixing bowl. Add in egg, melted butter and vanilla and mix until blended.
Cinnamon Swirl: In small sauce pan melt butter and add in brown sugar and cinnamon. Allow to cool slightly before putting mixture in a plastic sandwich bag. Refrigerate 10 minutes or until mixture is thickened to a squeezable consistency.
Pour batter onto a heated griddle for pancake.
Snip off edge of cinnamon swirl bag and squeeze some of the mixture in a spiral pattern onto one side of the pancake only. Allow to cook a minute or until top of pancake bubbles.
Flip and continue to cook until done.
Keep going with the rest of the batter and cinnamon swirl.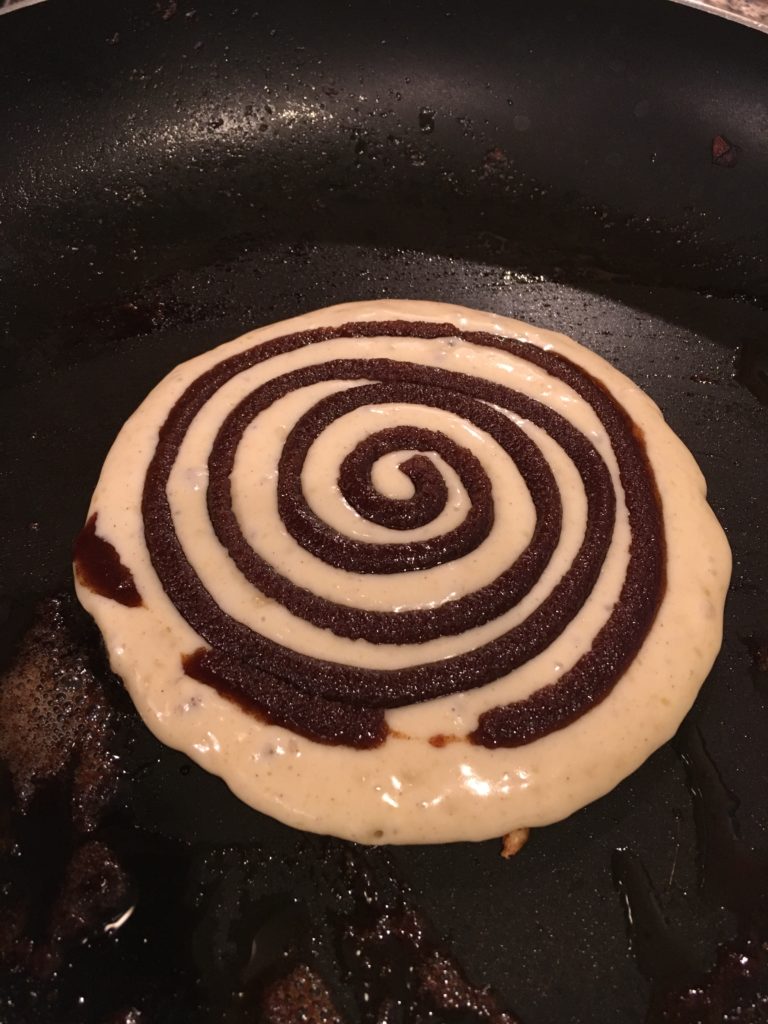 The magic happens when you make the cinnamon swirl. I melted butter, brown sugar and cinnamon together then put it in a plastic sandwich bag and refrigerated it just until the mixture thickened to a "squeezable" texture. Then I snipped off a small corner of the bag and piped a spiral pattern on each cake as it baked in the pan, just on one side. When you flip the pancake, that cinnamon swirl deliciousness sinks down into the pancake, giving it that familiar cinnamon-roll appearance. Pretty cool, yes? I have a feeling these will be very popular around here.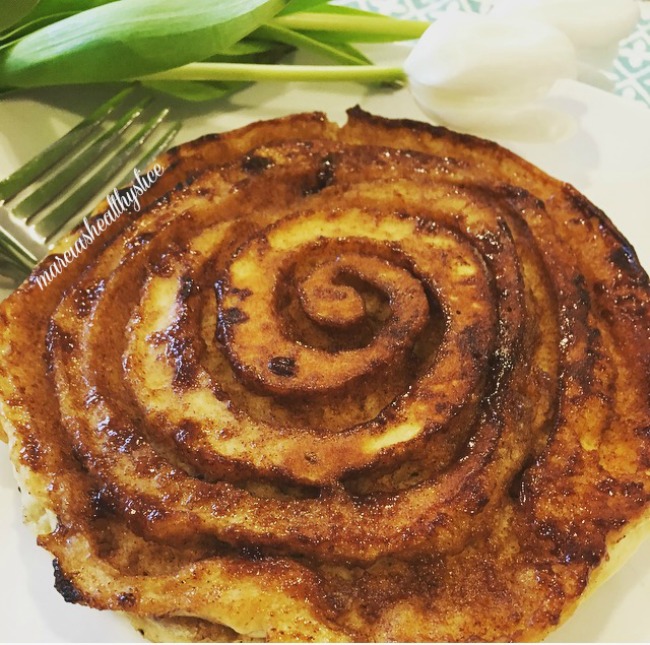 How pretty would these be for a spring brunch?
In other news, spring is here. It doesn't look much like spring, unless you find grey, overcast skies and dirty snow springlike, but the robins are back, and the geese and various other fowl are on the water. They must know something's up, right? That's what I tell myself anyway. We got a good 10″ dump of snow this week, which miraculously is almost all melted already. That's the beauty of March I guess. It was a decent week workout wise:
Monday: Swim
Tuesday: Run 4 miles pace ladder + strength
Wednesday: Bike + Swim
Thursday: Rest
Friday: Run 5 miles
Saturday: Run 8 miles
Sunday: CrossFit
I've been running with my heart rate monitor, which I think has been helping me a ton mentally. Stay tuned for more on that soon. CrossFit has been difficult, until everything sort of came together this week. Better-faster-stronger. It is truly amazing how the body steps up to the demands we put on it.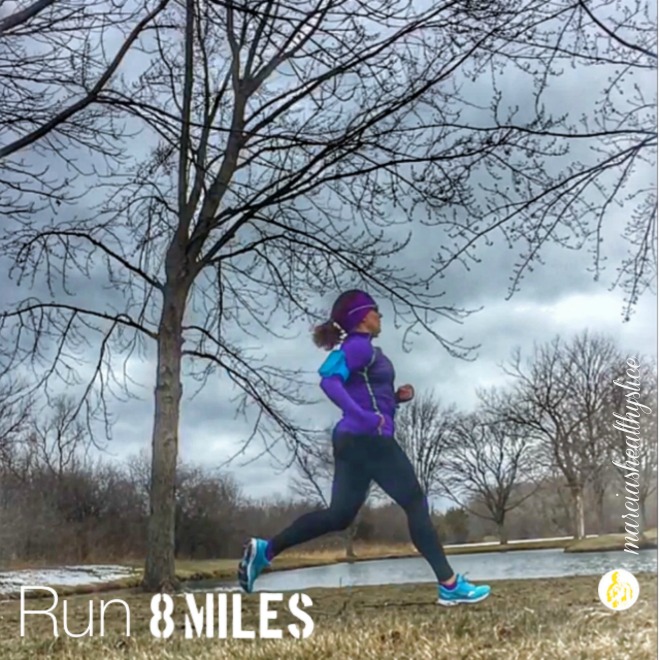 Saturday marked the 10th anniversary of my very first half marathon. I'd run 5k, 10k, and even 10 milers before then but I hold 2007 in my heart as when I took the leap and put both a half and full marathon on the calendar. Oh my what a journey this has been. It's been a physical and mental adventure I wouldn't trade for the world. Running truly changes you.
What's your favorite kind of pancake? How long have you been running? Did you race? 
Tomorrow's Tuesdays on the Run Linkup asks you to sell us on one of your favorite local races! Join us!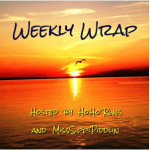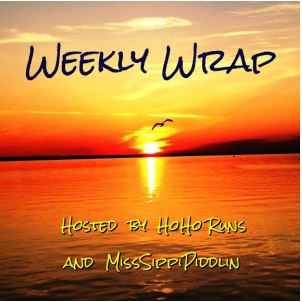 I'm linking up with Tricia and Holly for the Weekly Wrap, Deb and Sarah for Meatless Monday…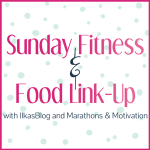 …and with Ilka and Angela for the Sunday Fitness and Food Linkup. Join us!