This post is sponsored by Speedo USA. I received Speedo products as compensation. 
Spring is here. Spring break is upon us (HOORAY!) and around the corner? Hellooooo summer! Warmer temps = swimsuit weather. Wait, what? Did someone say swimsuit? Does that two-syllable "S" word send you off in a Spandex-induced panic? Let's stop the madness right now and remember we ALL have beach bodies, just as we are, right here, right now. The only person you should really aim to please when you pull on a swimsuit is the one staring back at you in the mirror. Choose something YOU FEEL GREAT IN! My friends at Speedo USA asked me to share tips to help moms everywhere find her perfect swimsuit.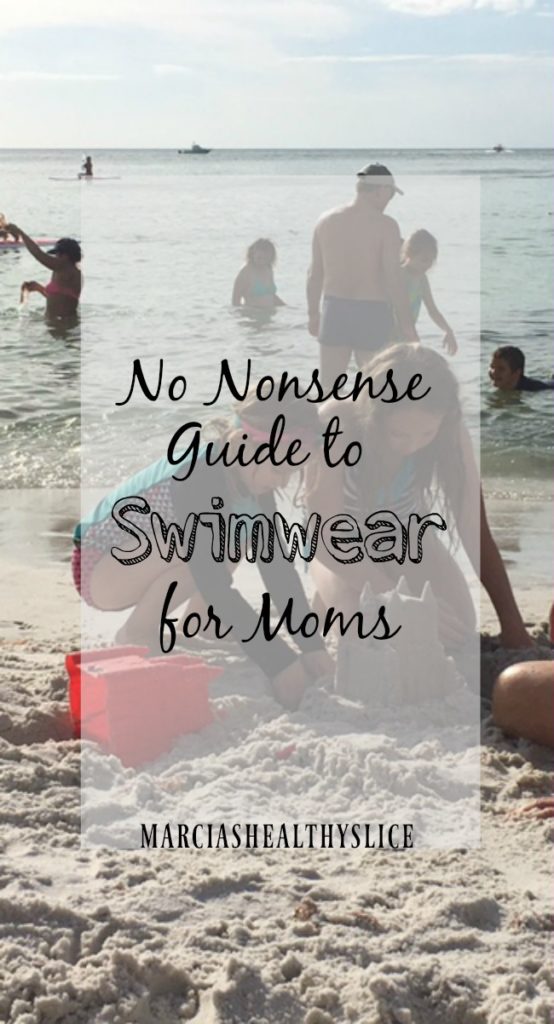 I already told you the most important one: Choose something YOU feel great in. What feels great on one mommy may not feel great on another because every body is beautifully different. Don't fall into a comparison trap with rail-thin models either. Just. Don't.
Choose a suit that's right for your needs. Personally, I'm all about function first. A swimsuit has to be more than just a pretty face. It must WORK FOR ME. Even if I look like a goddess in it, if I'm going to fall out of it the minute I lunge for a dive stick, that's a deal breaker.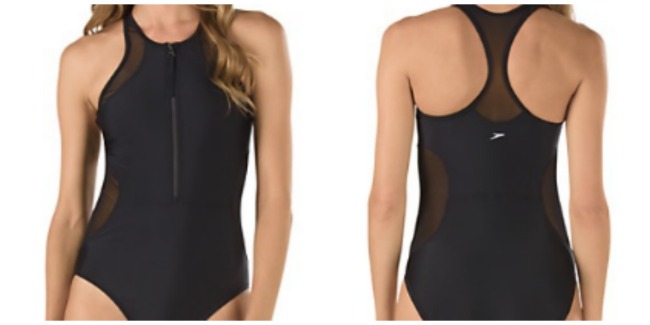 The PowerFLEX Eco looks great and totally gets the job done in the lap lanes as well. Look at the flattering mesh panels. Nice!
As soon as Memorial Day hits, the pool opens and the kids and I are there pretty much every day, weather permitting of course. My kids are no longer at ages where they require hands-on supervision every second, but I still do much more than bask in the sun on a chaise lounge. While I'd never wear a swimsuit that I do my triathlon training in to the pool with the kids, I do like to make my way over to the lap lanes during adult swim for a little bit of quality swim time. I can tell you firsthand that not all recreational suits are designed for duty in the lap-lane. Typically extremely low-cut or asymmetrical necklines are no bueno for serious swimming. Trust me on this, I speak from experience.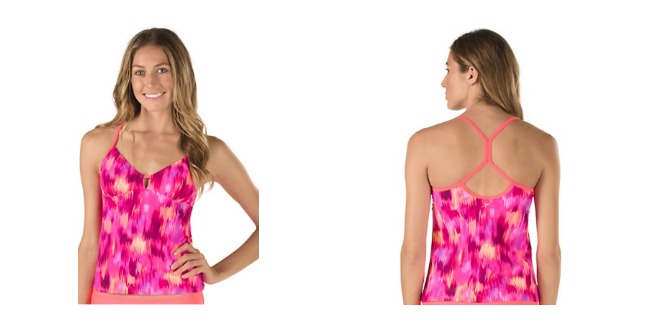 The IKAT Print Tankini accentuates arms and shoulders, lengthens the neck and is kind to the tummy. I fondly refer to my tankinis as "momkinis". They're definitely a fave of mine. 
Chest: Here again, I appreciate a suit that's not too revealing and stays in place through a spirited game of Marco Polo. Some support is great too, and while we're at it, how about a little padding that doesn't shift out of place in the water? Been there done that. No mas.
Legs:  I want something cut high enough on the leg to be flattering, but not so high I feel like a circus acrobat.
Booty: I don't want to be tugging constantly "back there". Behind the scenes coverage is key, if you know what I mean. I also want a suit that won't stretch out of shape and sag the minute it hits the water, so quality fabric and construction are important.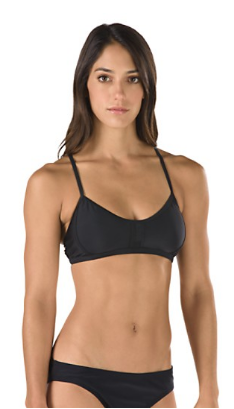 Torso: Everybody's different here: Long torso, short torso. I could probably be the Short Torso team captain. Long torso ladies often do well with a sporty 2-piece, like the Laser-Cut PowerFLEX Eco shown above.

Belly: Mad props to you if you're rocking a 6-pack, but I'll tell you right now, I've got 2-pack abs on my best day. Personally I appreciate some forgiveness in the belly zone. The Ombre Shirred One Piece suit I'm sporting above has shirring in the waist so the fabric doesn't cling to your gut. I think the ombre effect flatters all the right places and will look fairly sophisticated when I wear it to the Greek Islands this summer. Best of all, I love that I can duck out and swim a few laps in this baby.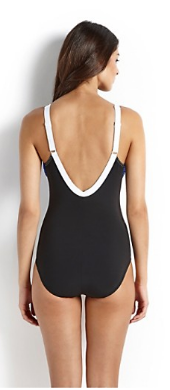 How gorgeous is this Sculpture Aquajewel Contourback
Back: I want straps that stay up, don't bind or chafe…oh and there must be no accentuation of back fat. Seriously what's up with this? The wisdom here is thicker straps are more flattering. Alrighty then.
Remember: The tips I gave here are things I think about when shopping for a swimsuit. Be sure to consider what is important to you and go with it. Here's to a safe and relaxing summer filled with sparkling water, sunshine and fun!
What do you look for in a swimsuit? How many suits do you keep in rotation? Where will you be swimming this summer?
My blog may contain links to other websites. I am not responsible for the privacy policies of those other websites. When you click on a link, your information may be collected by those websites, so I encourage you to read their privacy policies.