Before I get to our Tuesdays on the Run Linkup topic, congrats to everyone who ran Boston yesterday! It was a Hottie McHotterson and you all rock!
Moving on:
This week we're talking about racing mistakes. Gasp! What? I'll be the first to tell you I am guilty as charged on the mistake making front. I could tell you about pacing or fueling mistakes and gear mishaps but that would be too ordinary. Let's go with a rather unique (I hope) mistake I made at my first marathon.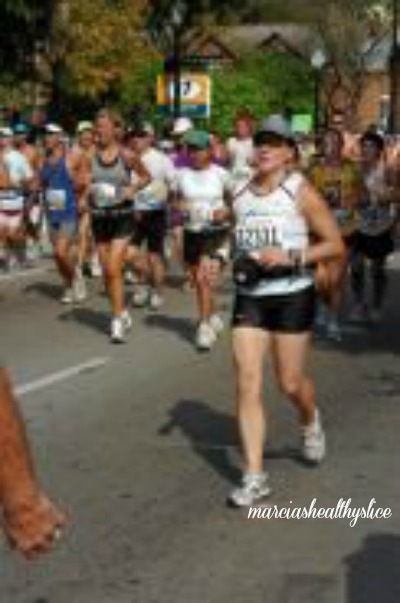 Forgive the poor picture quality. Apparently we only had postage-stamp sized photos…and white running shoes… in the dark ages.
Back in 2007 when I ran my first marathon, I carried Hammer Gel in a flask. Let the record show it was Espresso Hammer Gel. Espresso being the operative word. Espresso as in brown. Cue ominous foreshadowing. So I was clipping along around mile 5 when it was time to take some gel. I grabbed the flask, which hung upside down in my fuel belt (more foreshadowing) took a good swig and continued on my hot, sweaty way. Remember it was a billion degrees that year. After awhile I felt something sticky under the tongue of my shoe. It stuck and pulled away from my foot with each step. Stick, pull, stick, pull, stick, pull. Like a Bandaid going on and off. I glanced down to see a pool of Hammer gel accumulated there at the top of my foot, running into my shoe. What the what?? I kept glancing down and realized I hadn't closed my upside-down gel flask as completely as I should have and gel…runny brown gel…was seeping down my shorts, down my leg, through my sock and into my shoe. Mortified does not do the incident justice.  I didn't have to wonder why suddenly everyone was keeping their distance from me. Let's just say some extremely vigorous rinsing took place at the next couple of water stations.
Moral of the story: Be sure to snap your gel flask closed. Or better yet, don't use a flask.
What running/racing mistakes have you made? Any unique ones? Did you enter my giveaway?
I'm linking up with Suz, Rachel, Debbie and Lora for Coaches' Corner.
Loading InLinkz ...