Cheater Cheater Pumpkin Eater! Or something like that. Now that the 2017 Boston Marathon is history, out come the stories of all the cheaters. That's this week's Tuesdays on the Run topic.
Derek over at Marathon Investigations is doing a great job of outing the offenders. Who are these cheaters? What drives one to cheat? And the one that baffles me the most: What the heck are they thinking??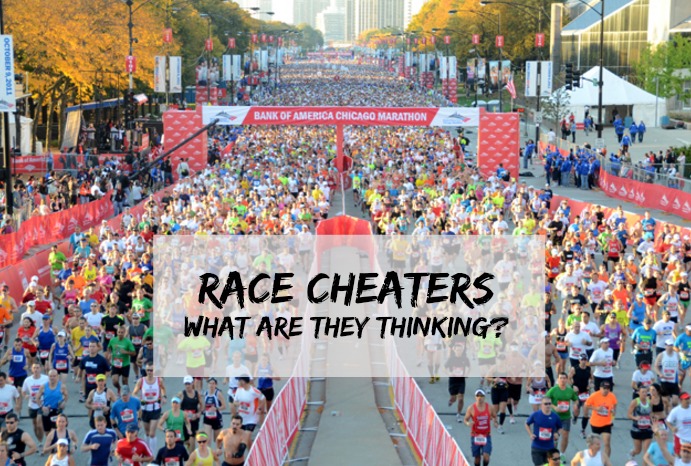 For the purposes of this discussion, race cheating refers to illicitly manipulating the result of a race in such a way that an overall victory, a prize (financial or symbolic) podium placement, age group award or qualifying time is obtained.
Let's review some popular cheating techniques:
Bib forging. With the proliferation of social media came bib pirating. Someone "steals" a bib seen on-line and through the magic of the Photoshop and a computer printer, reproduces it and runs a race he/she did not register/qualify for.
Bib muling. I personally know someone who did this and it blew my mind. In that case, the timing chip was handed off to a spouse in the middle miles of a marathon and it was the spouse who actually finished the race. Interesting yes? Sort of an illegal relay of sorts. The runner openly admitted to this on social media and rationalized that she "walked so far back to the car that I got more than 26.2 miles in". In even more insidious cases, runners give their bib to "mules" who run the entire race FOR them, typically in search of a Boston qualifying time. When you go back and look at the race pics, you'll notice the "real" runner is nowhere to be found. Read a little story about how Cindy was caught doing just that here.
SO THIS HAPPENED AGAIN TODAY. WHAT I LOVE MOST ABOUT RUNNING MARATHONS IS THAT IT TRULY DOES TEST MENTAL STRENGTH THAT ALSO TRANSLATES TO HOW WE DEAL WITH CHALLENGES IN OUR EVERYDAY LIVES. RAN MY HEART OUT TODAY AND LEFT EVERYTHING ON THE COURSE. ALL THE TRAINING PAID OFF AND QUALIFIED FOR THE BOSTON MARATHON! ?‍♀️ AMAZING THINGS HAPPEN WHEN YOU #BELIEVE. NEXT UP: LOTS OF YOGA AND HIBERNATION!
The quote above is what Cindy posted on social media after not actually running NYCM. I wonder if she's still hibernating?
Course Cutting. I think this one is self explanatory. Rosie Ruiz may be the most famous course cutter of recent times, although many have followed in her footsteps. Subway anyone?
Here's a New One…
…what about this guy who took an "extra" Boston Marathon medal for his wife, as a token of his appreciation for putting up with his months of marathon training? He had to know it wasn't right to take an extra medal. I'm guessing he must have hidden the first one he received under his foil wrap in order to get another. He states in his apology letter that one of his twins snagged his first medal as they reunited so he accepted another one. I can tell you from experience where you get the medals in Boston is nowhere near the reunion area. For the record, the Boston Marathon actually sells a "companion medal" for this exact purpose.
Cheater's High?
I don't know about you, but wouldn't cheating take the entire sense of accomplishment out of it? Because, hello! You didn't really earn it. It's NOT REAL! I can tell you I'd feel all kinds of guilty and paranoid if I took a prize or a place at a race that wasn't officially mine but apparently this isn't the case for everyone. According to psychologists, just as some runners experience a "runner's high" there are people out there who experience a "cheater's high" or sense of exhilaration after cheating.
Who's most likely to cheat?
Research shows you may be more likely to cheat if…
You tend to compare yourself to others. Those who feel like others are doing better than they are have a greater tendency to cheat.
You've recently won. The theory is that some runners may feel a sense of entitlement after they've previously won. They feel pressure to win again and may seek to do so at any cost.
You are externally motivated. Those are the runners who care quite a bit what others think of them. Being able to say they won a certain race or ran a BQ or snagged an age group place is very important to them. After awhile, how others perceive them becomes their truth.
If only they put as much effort and imagination into their training as they did bending the truth.
What are your thoughts about cheating? Have you witnessed a race cheater in action?
I'm linking up with Deb for Wednesday Word and with Suz, Rachel, Debbie and Lora for Coaches' Corner.
Loading InLinkz ...