I'm straying of our Tuesdays on the Run topic (how do you store/display/organize your running stuff?) today because frankly, after the basement flood, lots of my stuff is a mess. A big one. I'm going to spare you (and myself that heartbreak) and bring you some hamstring info instead. I recently rediscovered an exciting product that has been a game changer for me. Let's have a little chat about hamstrings, shall we?
If there's one injury that plagues me, ornery hamstrings take the prize. While ITBS was the first running injury I ever sustained back in 2007, hamstring issues have reared their ugly head on more than one occasion.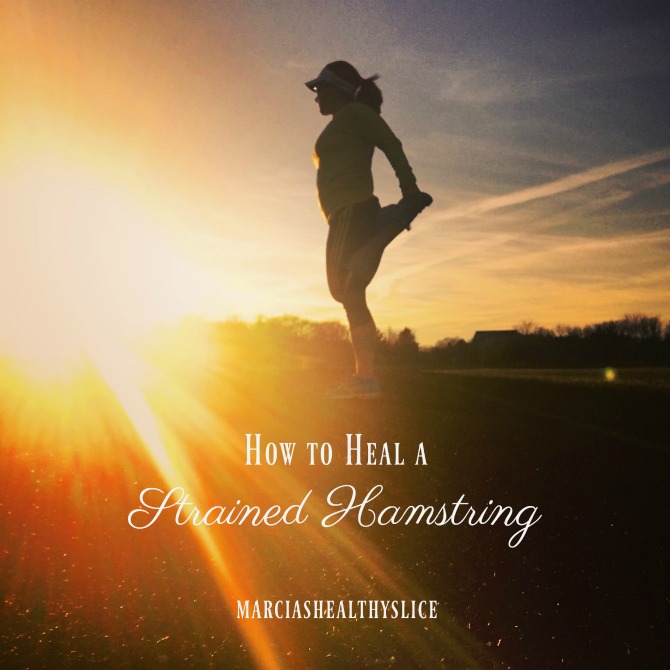 There are many avenues one can take to heal a hamstring but I'm especially excited about a certain one, which I'll share in a minute. But first, let's cover a few things:
What is a hamstring strain? It's a pull, partial tear or complete rupture of one of the hamstring muscles found at the back of the thigh. Hamstring strains are common among athletes who sprint, like runners, soccer players and basketball players. Hamstring strains occur when the muscles are overloaded by being stretched beyond capacity.
What Factors Put You Most at Risk?
Muscle Tightness.  Tight muscles are most vulnerable to strain. That's why it's important to follow a year-round stretching/conditioning program.
Muscle Imbalances. When one muscle group is stronger than the opposing one, strains are more likely to occur. Runners are notorious for their strong quads and weak hamstrings.
Poor Conditioning. Weak muscles are less likely to withstand the stress of exercise.
How to Treat a Hamstring Strain
In the acute phase (right after a hamstring injury occurs, rest ice and compression are ideal.
Once the acute phase has passed, there are a number of treatments that may be appropriate, depending on the location and severity of the injury.
Ktape
Graston
Eelectrical stimulation
Active release therapy
Vibration plate
Topical Magnesium
Epsom Salts bath
Address muscle imbalances
Strengthening exercises
Myofascial release
Acupressure
The healing technique I'm going to focus on is Acupressure because I found a new product that has been a game changer for me. The breakthrough came several years ago when I visited a Myofascial Release Therapist (read about that experience here), who was a trainer for the 1984 Romanian Women's Olympic Gymnastic Team. At the time I was recovering from a partially ruptured high hamstring. This therapist used a mat I'd never seen or heard of before. Before he started the therapy he had me lay on what felt sort of like a bed of nails. Not horribly painful, but not exactly comfy either. I never learned what that mat was but I can tell you the Myofascial Release and Acupressure I received was life changing for my hamstrings. Before I tell you more, here's a little more about Acupressure:
What is Acupressure?
Acupressure is an ancient healing art developed in Asia over 5,000 years ago. By compressing key healing points on the body, acupressure effectively reduces muscular tension, pain, stress, improves circulation, and promotes deep relaxation.
Before my Romanian Therapist administered Myofascial Release, he had me lie on an Acupressure Mat. Sadly he relocated after only a couple of sessions and I never discovered the secret of that magic "bed of nails". Until now.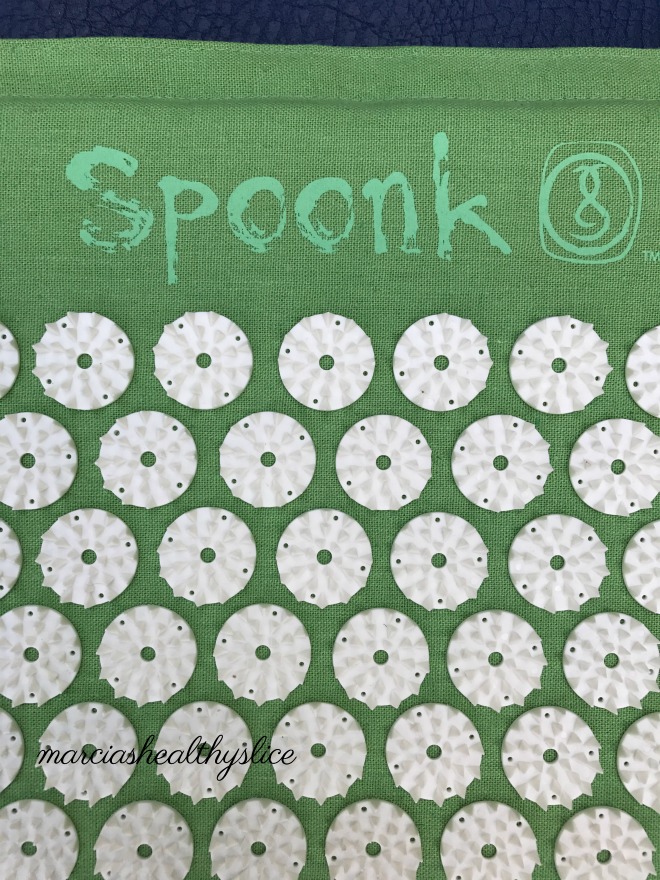 Recently I had the opportunity to try the Spoonk Acupressure Mat. It's basically a hemp mat with thousands of ABS plastic acupressure points.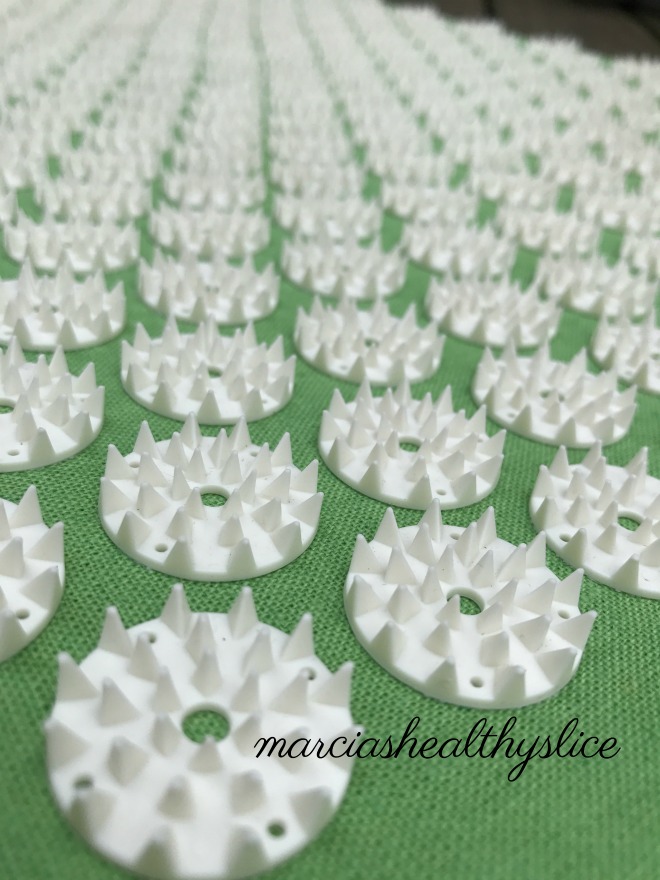 By lying on the mat, the acupressure points stimulate increased circulation helping relieve tension and pain as well as rejuvenating and rebalancing the body.
How I Use my Spoonk Acupressure Mat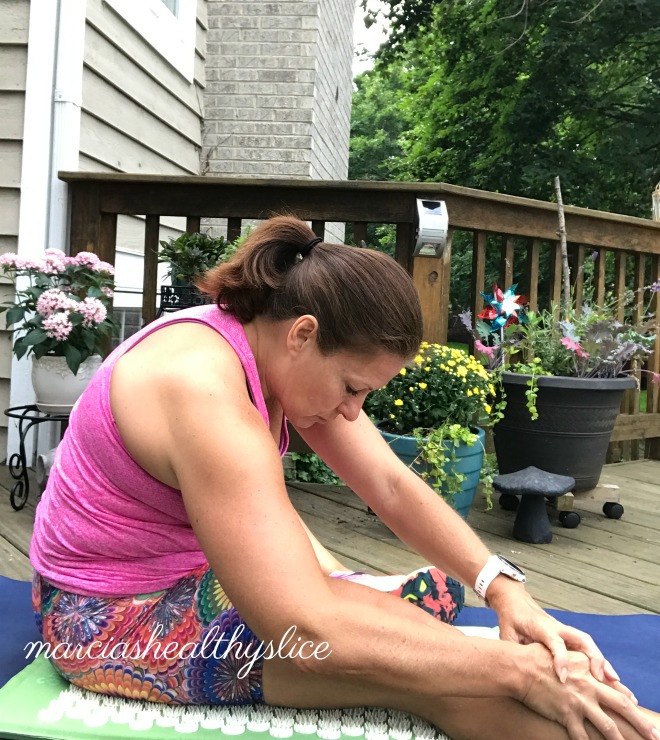 Post-run stretching. Be careful with your tech shorts/capris/skirts because they can snag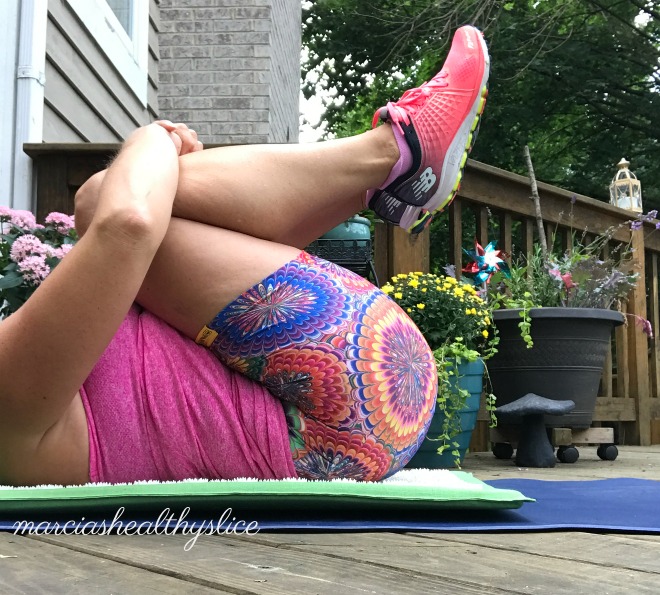 Back massage. Lay with your back on it and bring knees to chest and roll from side to side
Gently roll the feet on it to help relax them. Great for plantar fasciitis
Roll it and place behind the neck to relieve tightness
Nap on it
While it may not be the most comfy thing in the world to lie on, depending on your discomfort threshold, it is certainly very effective and your body will adapt to the way it feels. I am able to fall asleep on it. So is the Caveman. He swears it helps him sleep better as it promotes deep relaxation.
Have you tried an acupressure mat? What are your go-to tools to help keep you injury free? 
I'm linking up with Suz, Rachel, Debbie and Lora for Coaches' Corner, and with Deb for the Wednesday Word.
Loading InLinkz ...