Join us every Tuesday for the Tuesdays on the Run Linkup!
Here are the upcoming topics, but remember any post about running is fair game.  The rules are simple:
Link-up using the In-linkz at the bottom of one of the host's posts for that Tuesday.
Link to a specific running post.  Links to non-running posts will be deleted.
Please limit your posts linked to TWO MAXIMUM each week.  Any more and we will delete them.
It is good manners to mention the linkup in your post and to link back to one or more of the hosts.
We encourage you to visit at least two of the other linked posts, it's good karma and you may find a new blogging friend!
May Topics
5/2: Race Cheats
5/9: Mother's Day
5/16: Mental Training Tips and Tricks
5/23: Free Topic Tuesday
5/30: Grade your month
Join us the last Friday of every month for the Runfessions Linkup!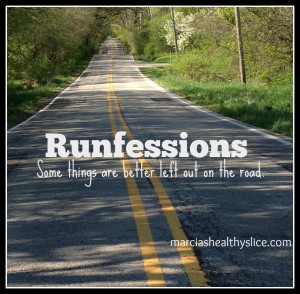 Cleanse your sweaty soul (or soles) by posting your run- gym- and swimfessions on your blog and linking back to me. Then visit Marcia's Healthy Slice to add your post to the linkup. Be sure to visit and and comment on the person who posted a link just before yours and as many others as you have time for. The more the merrier! The linkup will remain open until the end of the month.
Join us! I promise you'll feel better!