Last weekend the Caveman, kids and I headed to 6 Flags Great America for a blazing hot day of theme park fun.
We were there for a corporate event.  We spent the day riding. Alot. I think we sweated even more. Thing 1 is a total daredevil so Caveman and I traded off riding the big coasters with her. Thing 2 is not yet tall enough for them but she held her own.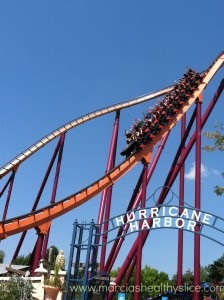 We all met in a picnic area for the corporate part of the day, which included a late lunch. We found a shady picnic table and I had just pulled the skin off a chicken breast (fried chicken and hot dogs were on the menu) when I was approached by a man of, shall we say, high corporate rank. After introductions, the first words out of his mouth were:
"I hear you're quite the runner."
A little taken aback that he knew I ran, I nodded and said "I try."
Then he said "Well I have a bone to pick with that marathon you're running. Traffic is tied up in Washington DC everytime I visit because I have to wait for some sweaty people to run. Can't they get up on the sidewalk after a couple of hours?"
Before I could respond, (not that I had a clue what to say) he continued:
"You know you're breaking down your body don't you?" Running a 4 hour marathon is way harder on the body than running  a 2-1/2 hour one.
Forgive me, but I couldn't help noticing Sherlock's vast, protruding gut.
My mouth said "For me, the rewards far outweigh the risks." My eyes said "Wow your assholishness astounds me."
Then his attention went to my plate:
"I suppose this is your training diet?" After a couple of tsks he finally went away.
I think we've all had experiences like these. Before this one, mine have been limited to single comments or snide remarks here and there.
I find it more than a little ironic that my lifestyle choices were questioned at a theme park where the obesity epidemic is overwhelmingly apparent. I watched two people be removed from two different rides because the safety bar couldn't fit over them properly. Some of the rides also have a sample seat at the entrance with a warning that larger people cannot be accommodated. But damn those runners.
So were the comments offensive? Yes. Was I offended? No. I know the rudeness  is a reflection of his own, personal issues.
Have you had your lifestyle choices questioned? Attacked?