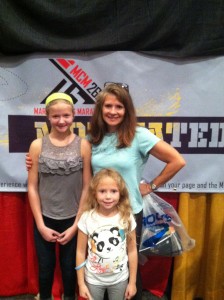 Expo Friday
Mega security getting in the DC Armory.
Crowded, loud and hot.
Selection was good but not great.
Needed more drinks!
Thing 2 was enamored with the Flying Pig Marathon medal.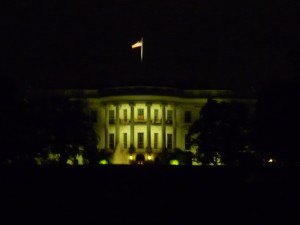 Touring Saturday
Toured the White House (holy wow)
Flopped down on a double decker tour bus and saw the sights with as little time on the old feet and as much food and drink as possible.
Gorgeous day, kind of warm for running though. What would race day bring?
Race Day
I was on a runner-crammed train bound for the Pentagon by 6am. Thank heavens I did not drag the Caveman and kids out with me. They'd venture out closer to starting time.
Once we got off the train it felt like we walked 10 miles to runners' village where I immediately joined a potty line. Once again my uncanny ability to find the slowest line in the entire village did not fail me. I had to sprint for the starting corrals after. It was very windy but just barely raining. Anybody's guess how long that would hold. We were treated to a flyover: tandem Osprey Helicopters. You know I love me some badassery and this filled the bill.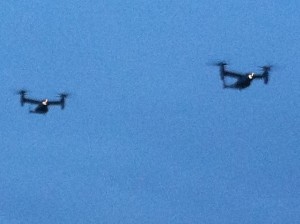 Violations: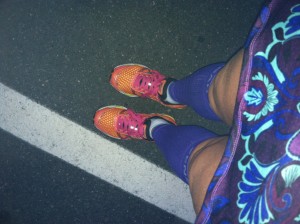 I raced in calf sleeves for the first time. Ever.
I bought an iPhone arm holder thingamabob at the expo and wore that for the first time too. Because I was expecting Sandy to make an appearance and change the run to a swim, I double sealed my phone in zip-lock bags before zipping it in.
I jumped the corral fence and got in who knows where. Way back. Too far back to hear the starting cannon over the festive Gangnam Style that pulsed through the air. At last I passed under the starting arches. Holy shit. Here goes.
If you've been hanging with me here you know my goals for this race were not lofty. I've played cat and mouse with injury since August 5. First the TFL strain, which pseudo healed then reared its ugly head again. Then, to make things more interesting, a strained, screaming calf. Long runs became pool runs and bike rides and fits of swearing. I taped and iced and stretched and wrapped and hoped and cried. I slept with Tommie Copper only to 2-time with Zensah during the day. Zensah when you make a full compression bodystocking I hope you'll name it after me. After a single 16 miler 6 weeks ago and not one step of  running except for the Zooma 5k over the past 2 weeks, suffice it to say, I was in no shape to run a marathon. It was not going to stop me though. Not. This. Time.
I knew going in I did not have my physical game. All the more reason I needed to really bring it mentally. I was going to finish because I said I would. I thought I could. I KNEW I COULD. That or the Marines would need to remove me from their fine course. With force.
Goals:
C: Finish Dammit! Make the cutoff at the gauntlet and beat the bridge. That's a 14 minute pace. I can power walk that pace…..right?
B: Run 13 miles. Then anything goes to the finish.
A: Run 16 miles. Can't imagine the ole bod holding up for more than that. I'd be elated with 16.
I started out at 10-10:30 miles, and hoped to hold that for as long as possible. It felt effortless. PAIN-FREE! I did not expect to have TFL pain this early but totally expected the calf to be a huge problem like it was at Zooma a week earlier. I planned to walk up the significant hills in the first few miles but I felt strong so no need.
I was overjoyed to be running at all. Pain-free was icing on the cake. I saw Caveman and kids at about 1.5 miles. Yay now they can go touring. I didn't plan on seeing them again until 16 or so somewhere along the National Mall.
We wove through town with great crowd support, then had some delicious, winding downhill through a very scenic forested road. At the 5k point though my left hip was grinding as it does when I'm really slow, so I tried opening up my stride to no avail. Shit. I ran with it for awhile then tried  walking to see if it would hopefully 'reset'. Miraculously it did. We were crossing a bridge and I was back in business by mile 4.
Every mile marker I'd check my average time and when it was in the target 10:00 range, I'd tell myself '4 minutes in the bank' (remember 14 minute pace course limit). I may have been obsessed with this number.
By mile 7, my 10:00 pace was no longer 'effortless' (thank you lack of training) but I could still hang and hang I did.
By mile 11 the first glimmers of TFL pain came on.  Totally forgetting I'd packed Advil in my fuel belt per Tink's recommendation, I imagined a large, gridded sorter and mentally put my growing fatigue in one box, the TFL pain in another and continued on to hit the B goal: 13 miles.
One of the many great things about the MCM course is there's always something beautiful or inspiring to distract from your agony. The fans are fantastic and plentiful and in the few places there are none the views are stunningly scenic. Well maybe not on the bridge of the living dead, but that comes later. I could feel the temps dropping and the already strong winds picking up.
The miles were still ticking away fast and I was feeling good and oh so grateful to have come this far at all. TFL hurt but not more than I could handle so I sucked it up. Having Marines lining the course helped that suck-up process immensely. At mile 15 or so a piercing alarm sounded through my Yurbuds. WTH? Dead battery? It wouldn't stop so I pulled over, dug out my phone from it's double Zip-lock shroud and saw it was a GPS tracking alert. The Caveman was up to his tricks. I figured he'd use it to track me on the course but an alarm?? I later learned he hit the alarm by mistake.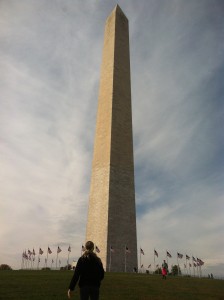 I was in the National Mall now, working toward my A goal. Crowds were thick and boisterous. I spotted Bart Yasso and high 5'd him. I'd met him at a party in Boston back in 2010. Great, great guy.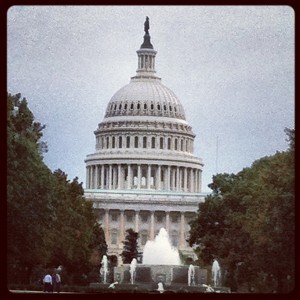 Mile 16 came and went and soon after I was past 17.5 (the gauntlet) as well. Still freaking running. Wonders truly never cease. I saw Caveman and the kids at 19 in front of the Capitol building. Caveman was holding my jacket. Did he think I was going to quit? I gave them a thumbs up and carried on, heading out to 'beat the bridge' at mile 20.
I'd love to tell you I felt incredible and sailed across that bridge and blazed in to a triumphant finish. But it was the bridge of the living dead that I mentioned earlier. I carried Accelerade and gu'ed at water stations every 5 miles or so. I had a good rhythm going but it all ground to a halt around mile 21 on that damn bridge. It was a big sucker. The skies were angry and the wind heaved up in ominous swells. My fuel belt was dry. I gu'ed, waiting for the water station that never came. It was that god-forsaken, never-ending bridge of the living dead that unravelled me. The walk breaks started.
By the time the bridge ended I was wrecked. I could not get enough to drink. The nausea started. I did not want anymore GU but I knew I needed it. The course tortured me with an insidious incline that would not end. It was time to pay the price of poor training.
At mile 24 the Dunkin Donuts logo glimmered like a mirage. Being the donut whore that I am, I took some even though they were the last thing I could stomach at that point. A single molecule-sized nibble confirmed it. No donuts for me.
I gathered whatever strength I had left (read none) and headed down a steep on-ramp to a closed highway. The end just HAD to be in sight. Two miles. Come on. You can do anything for two freaking miles.  This is when my calf finally spoke up. But there was no stopping now. The crowds were super thick again and we turned off. Still did not see the finish though. Then I looked up. Way the hell up. Holy effer I needed to climb up there??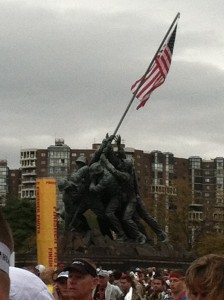 I did, but I was gimping so I walked a touch of the steepest part. And at last, 4 hours and fifty-one minutes after I started, I. Finally. Finished!
The finish was epic and touching and Marine-filled and special. My own personal Marine presented me with a medal and, get this, saluted me.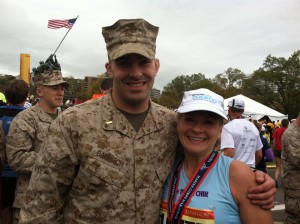 We got 'recovery jackets' rather than space blankets. Like all marathon finish lines, the air was electric and celebratory and fabulous.
Final Words: Gosh how I loved this race. I think it's my new all-time favorite, despite the fact that I ran it almost an hour slower than my best. If I lived closer I think I'd run it every year. It's that good. You NEED to run this one!
The whole military/pride of country thing is super inspiring. There is so much beauty and history to meditate on throughout the course. One can't help but dig down and find their strong. The race itself is very well done and has tons of character. Beyond the usual water/Gatorade/gel stations you'll find oranges, Sport Beans and yes, donuts. While not necessarily hilly by normal standards, (remember I'm a Chi-town hill pansy) there's lots of up and down. If I were to train for this race (ha!) I'd train for downhill. My quads were destroyed. The only negative I have is the course was quite crowded at my pace for the entire race. I was kicked three times. Too many elbows/pushes to even count.
A massive PW but a resounding triumph over injury. I think this is my favorite medal ever too. I was uber sore the next day–12 hours in the car fleeing the hurricane zone did not help. Amazingly though, I felt much better the second day. My TFL was tender, but not crazy painful after the race. It was painfree the next day. Calf seems to be fine too.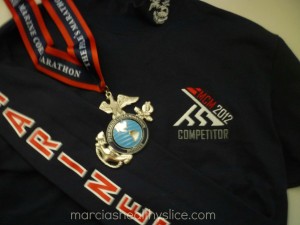 Mission Accomplished!