When I was invited to test-drive FRS products I hesitated. Do I really need another energy drink? Then I looked at the ingredients and saw Quercetin. Sold.
Few come to lead healthy, active lives at my age (the half century mark if you're just joining us) without a few weapons in their arsenal. One of mine is Quercetin.
In addition to eating my share of apples, grapes and blueberries where Quercetin is naturally plentiful, I take a Quercetin supplement immediately after tough workouts and again before bed.
I find it helps my recovery and it also keeps me from getting sick, which is all too popular right now. According to FRS, Quercetin also helps burn more calories by producing sustained natural energy and endurance. Who knew?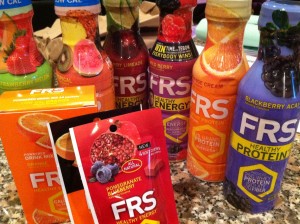 My FRS samples arrived just as I was leaving for vacay.
The energy chews and drink mix went right in my carry-on bag.
The soft chews were the texture of Starburst, but not quite as delicious. Hey it's an energy enhancer after all. The hard shell ones reminded me of Chiclets.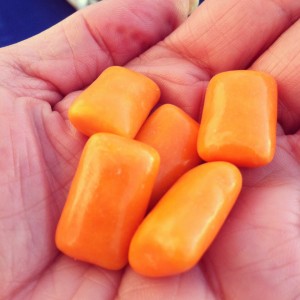 Do they still make Chiclets?
FRS Healthy Energy Drink Mix (not shown) comes in super-convenient individual packs you can just toss in your workout bag and mix with water whenever.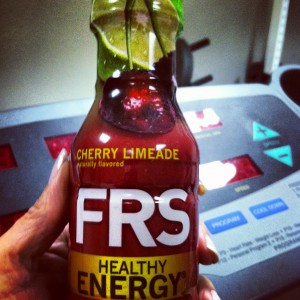 I drank FRS Healthy Energy before my workout. I adore cherry lime flavor, and while this was not an epicurean delight per se, it wasn't disgusting either. I topped off my workout with FRS Healthy Protein, which contains 25 grams of protein, a whole mess of B vitamins, 7 grams of fiber and yes, more Quercetin.
I have yet to try FRS Healthy Slim (but need to in my blimped-out, post-cruise state), which offers all of the benefits of FRS Energy, but with just 20 calories.
While I did not notice a significant rush of energy (or any jitters) with any of these products, I can say that all of my workouts rocked (ran faster, lifted heavier, felt stronger) while I was testing FRS. All FRS Energy products contain no artificial flavors, colors or preservatives. They are gluten-free and non-GMO. Definitely worth checking out!
What is your favorite energy drink/product?
Note: I was sent these products to test, free of charge, however my opinions are my own.