Heaven knows we're milling quite a bit up in here no thanks to polar vortexular conditions. I think I'm milling now more than ever before. For many of us (yours truly included) the mill can be a hateful creature. But when it's the only option…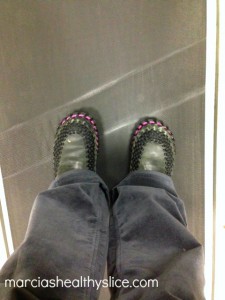 Brain freeze took on a new meaning when I arrived at my basement mill yesterday clad in running bra, singlet, corduroy pants and slippers.
All this milling has me wondering about your feelings toward the hamster wheel. Love it? Hate it? Answer some or all of these questions in a comment or post about them on your blog and tag me. Here we go:
What's your favorite workout to do on a treadmill?

About 5 miles of speed intervals. Preferably 400's, although I'd feel proportionately more badass if I banged out some decent 800's. One can dream.
How many miles, on average, do you do on the mill each week? Right now it's all of the miles so about 20. If the weather were more 'normal' it would be half that at most. 
What was the most mileage you've ever completed on the mill in one workout? When? Why? It was the last long run of a Boston training cycle. We had a sleet/freezing rain mix going on over significant snow and roads were glazed like a fine donut. I went to the YMCA and banged out a 22-miler
Do you mill at home? The gym? Both? Mostly at home, although I love milling on cruise ships for the extra balance challenge. I'm weird that way.
What distractions/entertainment (if any) do you use to help pass the time? Sometimes music, sometimes TV. I change channels all over the place, the same way I constantly change speeds.
If you have a mill at home, how old is it? Mine will be turning 13 soon. I'm trying to get an idea of life expectancy, although I haven't yet come to terms with the possibility of the 'end' being near.
Do you fuel any differently for a treadmill workout than an outside one? I guess not, although I rarely have anything more than water on the mill. If I have more than a dozen miles to run on the mill, gu'ing strategies apply.

Any treadmill mishaps to report?

None that I can think of, although now I'm probably jinxing myself.

Do you mill at incline to compensate for not being outside? Yes, always 2%. Unless I'm training hills, then more. Ouch.
Describe your perfect (if there is such an animal) treadmill conditions:

The room is cool, there's a fan blowing. Towel and water bottle are in the holder on the left. TV remote at right. No kids or dogs barge in to bug me (or poop). TV is tuned to FoodNetwork. Barefoot Contessa makes strawberry shortcake and preps for a party filled with copious amounts of hydrangea. Then Pioneer Woman drives around the ranch in her pickup, wrangling cattle, kids, dogs and some brisket. I have all of these women's cookbooks, I am riveted to their shows, yet I can count on maybe 3 fingers the number of their recipes I've actually made. What is up with that??
Don't forget to enter my Zensah Compression giveaway!