Truth be told, I enjoy my winter running. It's cool, ok cold here in Northern Illinois. But so peaceful and beautiful when a layer of snow insulates me from the rest of the world. The snow sparkles when the sun hits it just the right way. Yeah, maybe it gets uncomfy when the wind is testy, but I'll take a bracing cold run over a sweltering hot one anyday.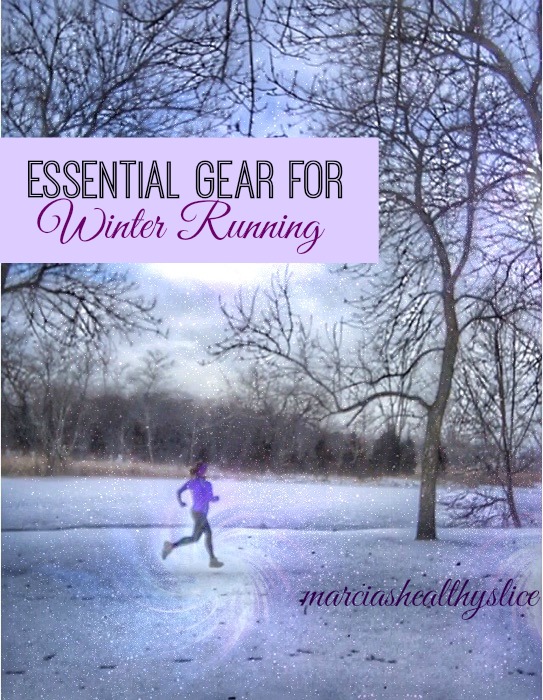 To stay warm when the mercury dips and make the most of winter running, you need some good gear. What runner doesn't love some gear? If you want to know exactly what layers to wear in what temps, see my posts for colder and coldest weather. Here I'm sharing some of my winter favorites.
Yaktrax: I've been running for 18 years and this is the first season I've used Yaktrax. Previously I wore a trail shoe for wind resistance and better traction on the snow and ice, but I'd have to say goodbye temporarily to some of my routes, especially trails, because they were just too slippery, even in a trail shoe.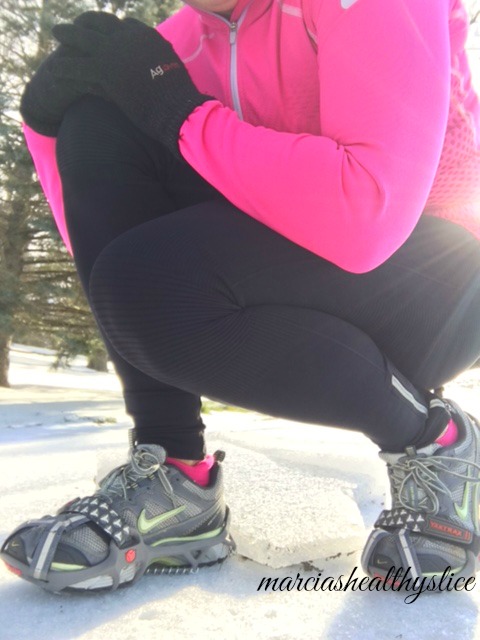 When the kind people at YakTrax sent me a pair to test, I was curious. They're made of high-strength natural rubber with steel coils and 1.4mm carbide spikes. I slipped them over my trail shoes and closed the Velcro. Easy peasy. Be careful where you put them on though because you'll ruin the floors in your house and you really shouldn't walk or run on pavement with them at all, you'll break the spikes.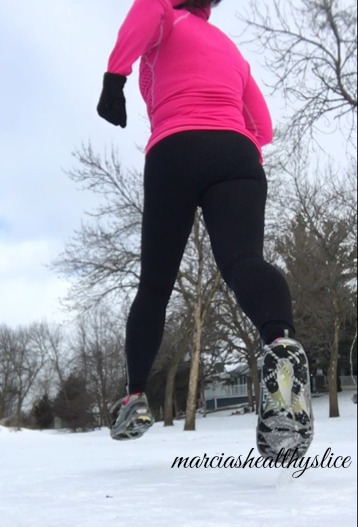 We had an ice storm here in the Chicago area then got snow on top of it. It never melted. I was amazed how great my traction was on this super-slick surface. Since getting Yaktrax, I've been able to keep running (upright!) on trails all winter so far. Something I've never been able to do.
Balaclava. When it gets down to single digits, a hat or headband isn't enough. I love the complete head/face/neck protection of the Ninja Balaclava from Be Free Gear. I can put it up over my nose to start out then lower it as I warm up. I can't imagine winter running in the Chicago area without it. On super cold/windy days I'll throw a fleece hat over the balaclava for extra head/ear warmth.
Gloves. I've had the pair you see in the pics above from aGloves since the beginning of time and even though I've tried several other brands, these are still my favorite. Note: I'm a very hot runner and it has to be below 25 degrees before I'll wear any gloves at all so you may want to layer with a mitten or something heavier based on your preference.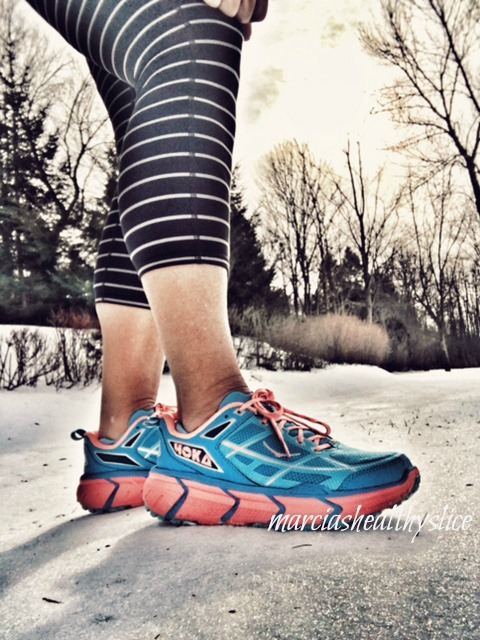 Trail Shoes: I succumbed to the Hoka One One buzz several weeks ago and bought myself the Challenger trail shoes. In the first mile they felt a little odd but I warmed up to them quickly. Since then we've become fast friends. They're comfy, cushioned!! and my feet and legs have been very happy in them up to 1o miles so far, on technical trails, snow-covered trails and icy/slushy roads. Of course everbody's feet and taste in shoes is different so find a pair of trail shoes that's right for you. These get two thumbs up from me.
Thermal tights. I can't lie, on really cold days my bum can get pretty chilly. I guess the phrase "freeze your ass off" applies. A great pair of tights is worth it's weight in gold. There are many good brands of thermal tights out there. Under Armour Cold Gear, Nike Pro and Spandits are some of my favorites.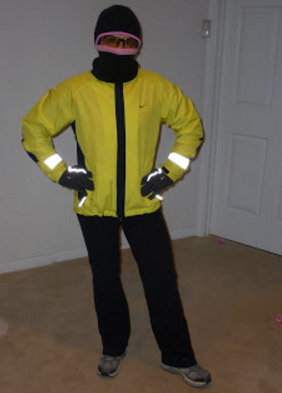 Jacket. I hesitate to make specific recommendations here because there are so many great ones out there and it depends on your local conditions and your preferences as well. I've got two that I especially love. A high-viz jacket from Nike (above) that's water repellent yet vented to breathe. It's great in wet, windy conditions. The Firewall 220 from Sugoi (not shown) is engineered to regulate body temps as your body heats up or cools down. I shelled out upwards of $200 (and nearly choked when I did so) for the Firewall but I've worn it for years so worth every penny.
Sunglasses. When it's super cold/windy and/or there's lots of snow cover, you definitely want to wear sunglasses to protect your eyes both from the extreme cold (they'll water like a mofo) and from sun/snow glare. Again I won't recommend any specific brands because there are tons of good ones out there. Sunglasses with lenses that darken/lighten based on light levels are especially nice. I found mine at a bike shop of  all places.
Your turn: Favorite winter running gear? How low (temperature-wise) do you run outside?