I hope you all had a relaxing and enjoyable long weekend! This week we're running free on the Tuesdays on the Run Linkup so all running topics are fair game. I'm taking this free week to tell you about some new-to-me gear. Blame it on the heat, my burgeoning meno-pot (if you don't know what I'm talking about consider yourself lucky) or both, but this was the summer I finally broke down and started using a hydration backpack on my long runs.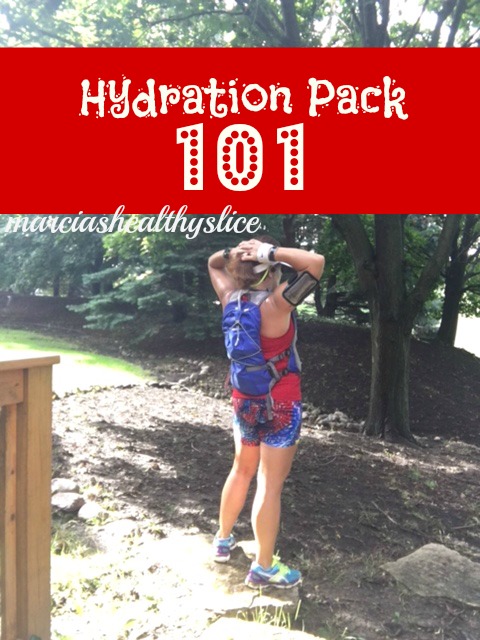 I'd have called this post hydration packs for dummies, because I pretty much made every mistake in the book as I learned to use mine, but come on, dumb's a strong word. I'm just clueless sometimes.
To say there's been a learning curve would be putting it mildly. Since mine (The Aerolife Running Backpack) came with no instructions and I didn't search for any how-tos ahead of time, let's just say my first run was more trial and error than actual running.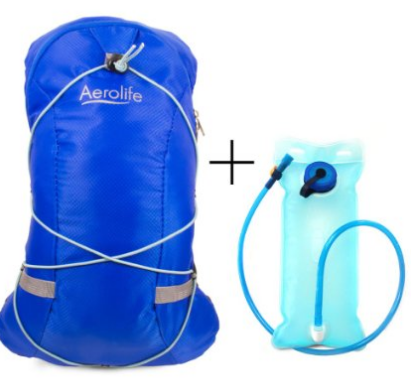 The good news
I find my hydration pack (now that I've got the straps adjusted to fit me) perfectly comfy and chafe-free. Even on those long, 15+ mile jaunts.
It's worlds better than fumbling with the bottles in my fuel belt.
I can be out running longer before circling back to refill because the pack carries 1.5 liters of fluid. Way more than my bottles.
This one is priced really well. Just $24.95 on Amazon. Lots of value for the money.
The bad news
You pretty much need a hydration pack sherpa to clean and service the pack. Cleaning out the bladder and flushing out the hose is the absolute last thing I feel like doing when I drag my sweaty self in from a 20 miler. Despite running lots of hot, soapy water through the hose, I see gunk accumulating in one spot. I suspect this is a problem with most hydration backpacks out there.
There's a whole lotta sloshing going on when I run. Because it's been a billion degrees all summer, I add a tray of ice cubes to my fluid, which keeps me refreshed, however the clinking of ice can be bothersome. First world problem.
Tips for choosing a hydration pack
Check for pockets. Is there space for your fuel? Phone? A bottle of water? Other stuff? Think about what you usually carry. I wish this one had space for a water bottle, alas it does not. I prefer taking my gels with plain water.
Make sure your phone cannot work itself out of whatever pocket you designate for it. I speak from experience. I tried hard to find a secure pocket for my phone, but this pack came up short. I still have to wear an armband.
Is filling the bladder easy? A nice wide opening is optimal. Check. This one's great.
Hydration pack setup
Make sure the end of the hose where you suck is closed before you fill the bladder. Sounds simple enough, yet I failed and squirted Accelerade all over my kitchen. Twice.
Make sure the end of the hose that attaches to the bladder is attached tightly. Very tightly. If it's not, the bladder will leak and fluid will seep through the pack and your pants making you feel like you peed yourself in the middle of your run. Because your glycogen stores are low you might actually believe you peed. Don't ask me how I know. Just don't.
Fill the pack bladder in the sink. Make sure the hose is attached and closed and aiming into the sink. Trust me on this.
Other Concerns
I worried I'd be bothered by the weight of the pack on my back, however that was not the case. I was also concerned wearing a backpack would be really hot. The Aerolife has a breathable design and I did not find it in the least bit bothersome from a comfort standpoint.
Final Words: I've had my challenges but I think the Aerolife Hydration Backpack is a keeper. It's waterproof, breathable and most important comfy because it doesn't chafe or bounce. I love the peace of mind it affords me by allowing me to carry 1.5 liters of fluid.
Your turn: Do you use a hydration backpack? Any tips? Favorites?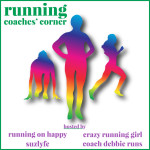 I'm linking up with  Running on Happy, Suzlyfe, Crazy Running Girl, and Coach Debbie Runs for Running Coaches Corner.
Loading InLinkz ...