You'd have to be living under a rock to not know that several bloggers were invited to run the Utah Valley races. Of course I jumped at the chance and signed up for the half. I'd never been to Utah!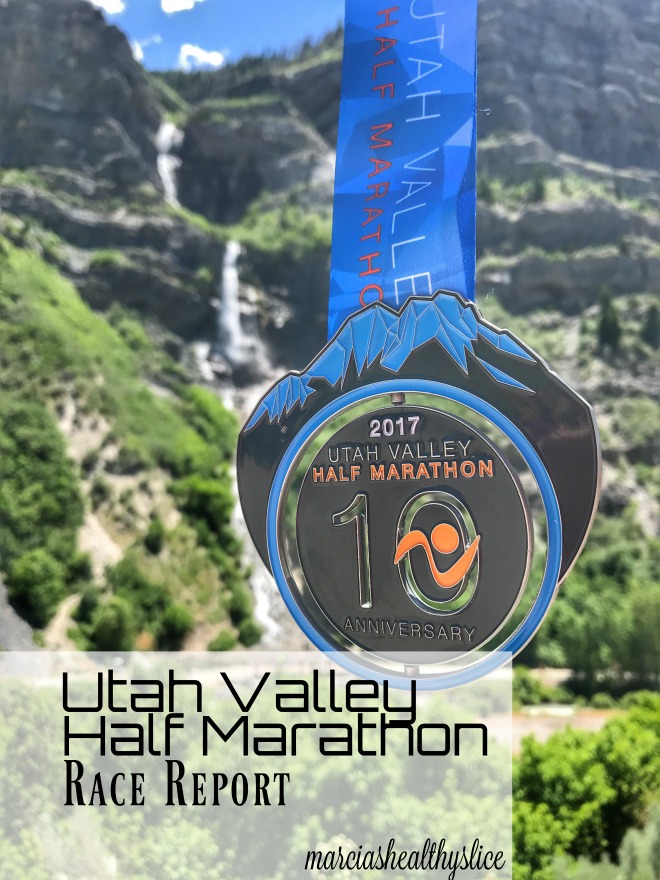 I arrived Friday afternoon and found Marybeth and Zenaida waiting at my gate. We got our rental car and were on our way to the expo, where we met up with more bloggers.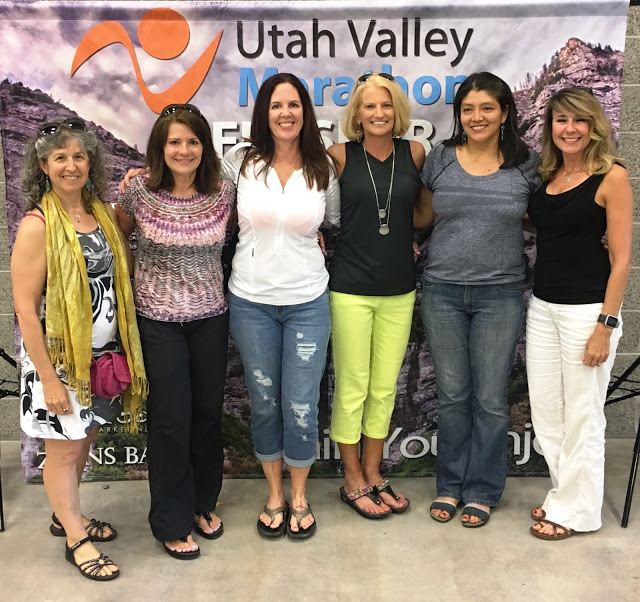 Left to right Judy, me, Marybeth, Holly, Zenaida and Teresa.
After an early dinner at CPK we hit the hay in anticipation of a very early wake-up call.
Race Day
We were up dark and early (3am) to head to the shuttle buses that would take us up the mountain to the start line. This is a downhill, point-to-point race. Don't get too excited about that downhill, remember too much of a good thing isn't so great.
The bus left us on the side of the highway-turned-starting area. The full moon in a clear black sky as well as several fire cans burning brightly cast an eerie glow. We'd go off at 6am, just as the moon was setting in the canyon ahead of us. Breathtaking.
Goals
It's no secret I didn't come here to race. I knew my endurance wasn't where I wanted it to be yet plus there was the whole altitude thing. I came up with 5 goals:
Run happy
Soak in the experience
Enjoy the scenery
Enjoy friends old and new
Pinch myself because I'm lucky enough to have experiences like this
The first couple miles ticked away easily on a winding highway course. I took in the scenery and was grateful for the amazing opportunity to be here. My reveries were rudely interrupted by the buzz of my Garmin counting down to power save mode. What? Somehow I'd failed to start it. What's up with that? I know I clicked it. Oh well, my mileage would be off. Not a big deal.
Mile 3 was a long, uphill affair I did not appreciate. Let the record show I did lots of leg, hip and glute strengthening work to prepare for Utah Valley. But actual hill training? Not so much. Mile 3 was my opportunity to heed my heart rate, slow down and enjoy the view.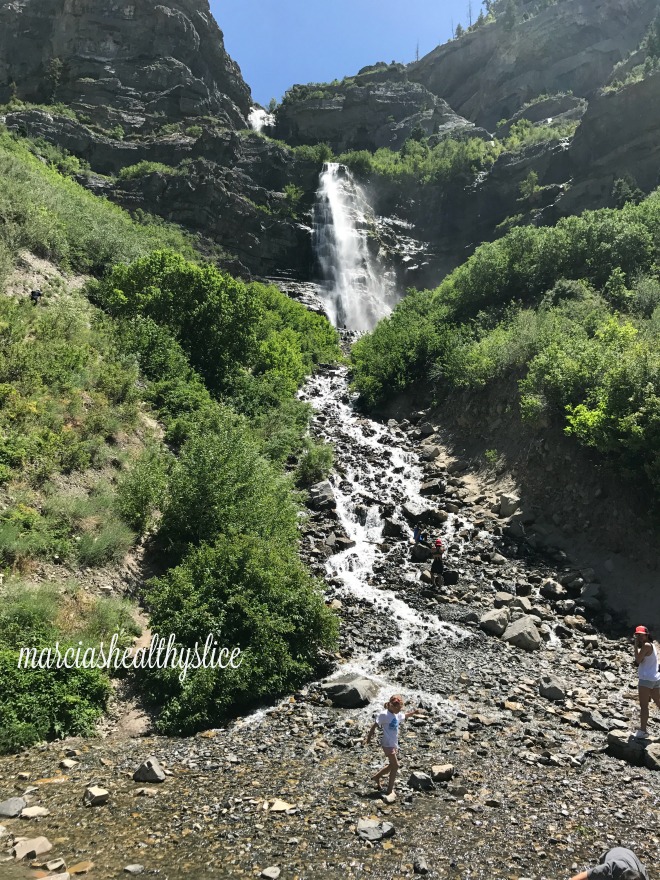 This pic of Bridal Veil Falls when taken during our visit later that day. 
As the sun rose behind us casting a golden glow on the mountains, we were treated to a refreshing tailwind to boot. Perfection. We ran past Bridal Veil Falls, which we'd come back and hike later. That's how we do recovery.
I was clipping along, happy as a clam grateful for this experience when at mile 7 I noticed the little fastener on my bib holder belt was very close to the edge. As I reached down to tighten it, the fastener snapped off and went flying, rolling almost into oncoming traffic. Of course my bib flew in the opposite direction. I spent some time chasing down both items and reassembling myself before continuing on. Good thing I didn't come to race. The course is mostly gradual downhill with some screaming downhill and some hills too. The spectators increased once we got into town. So did the walkers. So many walkers I had to weave a lot to get around them. I realized later they were doing the 10k. In a perfect world they wouldn't walk 3 and 4 across. This was not that world.
At the 10 mile point I was ready to be done. My ankles, hips and ITB were tired of the camber of the road. My brand new handheld bottle (that I was using for the first time) had run dry and I filled it as needed at the water stations. Carrying it sort of bugged me and made my hands tingle, probably because I wasn't used to it.
Finally, far in the distance I spotted the finishing arch. Or was it a mirage? The home stretch is a loooong one. Probably the longest one I've ever seen. It was both welcoming and tough to see the finish arch from so far away. Patiently I brought it in for the finish.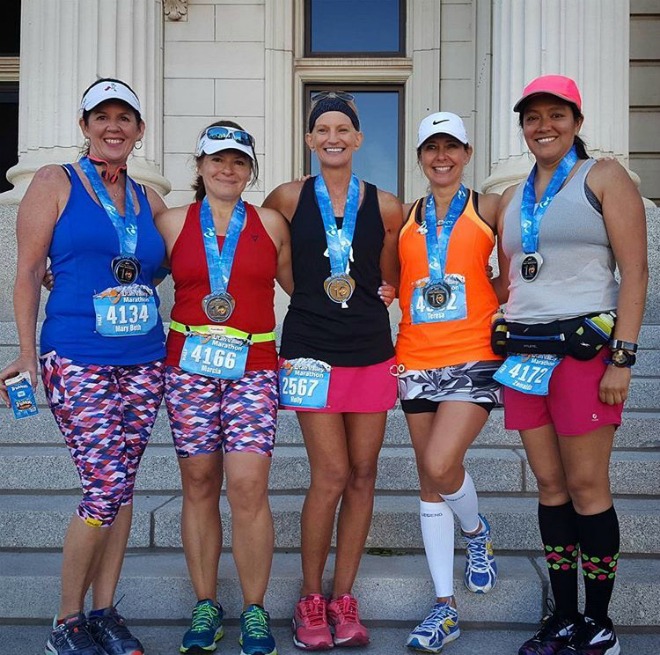 Finish time: 2:13. I've been much faster and I've been slower too. Even though I feel like I ran this one easy breezy, somehow I ran it faster than any half I ran last year.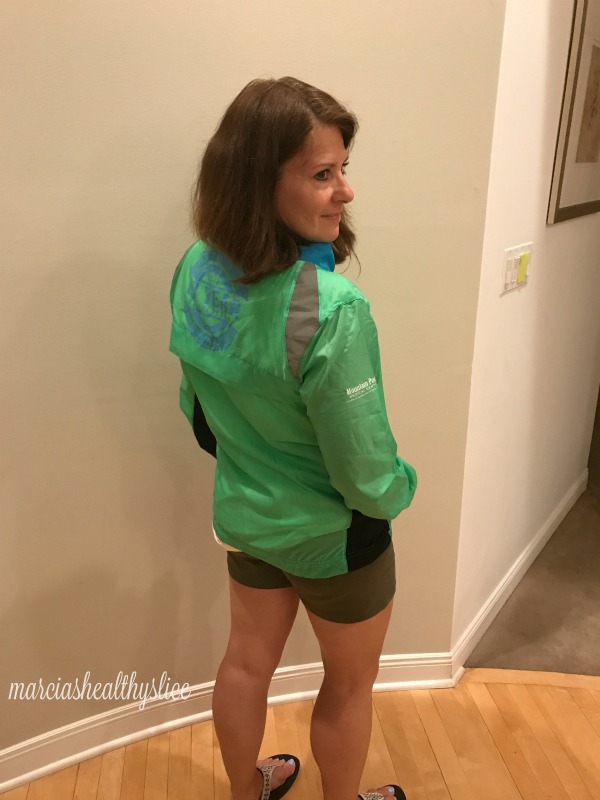 Final words: I loved this race. It's very well organized and the conditions were perfect. The medal is top notch and I loved getting the 10th anniversary jacket instead of a race shirt. Women got the fun bright green you see in the pic while the men received a nice turquoise one. Finish line food consisted of fruit, Jamba juice, popsicles and chocolate milk. There was a nice finish line festival complete with massages and a band. This is one of the, if not the most scenic half marathon course I've ever run. The Georgetown to Idaho Springs Half in Colorado is quite similar and amazing as well.
The race itself was fabulous but we did SO much more over the weekend. If you've seen my Instagram you already know we made good use of our long weekend in Utah and packed it with adventures. Stay tuned for more!
Have you run a net downhill race? Raced in the mountains?
I'm linking up with Meranda, Lacey and Rachel for the Friday Five.