Welp, January went quickly into the rearview mirror and it's time once again to join Deb and Coco for the Ultimate Coffee Date. Let's sit down and catch up over a hot beverage, shall we?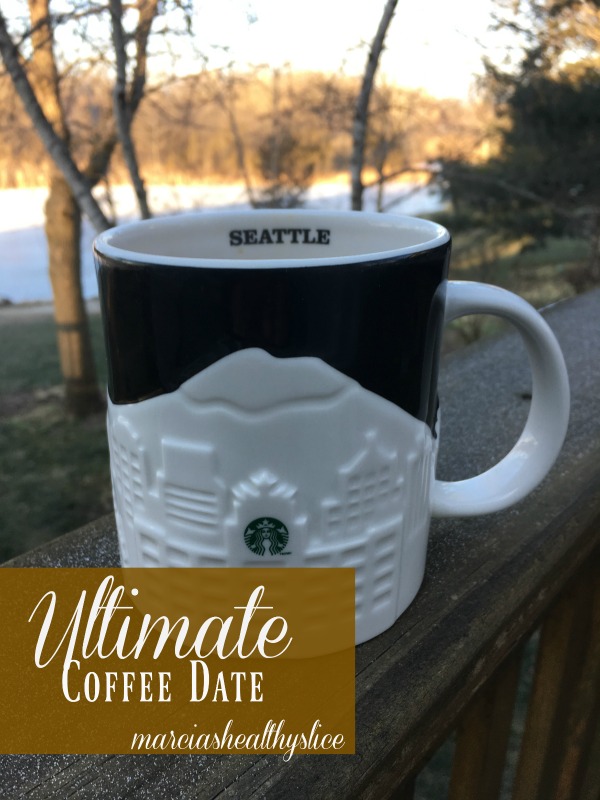 If we were having coffee I'd whine about the fact that I'm in thyroid hell right now. I packed on 6 (count em, 6 lbs. ) in January AFTER returning home from vacation. Who does that?? I'm doing a pretty good job of keeping my frustration/rage compartmentalized and I remain hopeful my Dr. appt. on Monday will give me some answers, but to be honest, I'm in a bad place. I feel embarrassed. Like I "should" be in control of this. There's a medical reason for the weight gain, but I still don't want to use that as a free pass to be fat. Not to mention with all the working out I do, gaining 6 pounds, with most of it in a giant ring around my abdomen, is just cruel.  Plus there's that voice in my head that whispers "what if you never get this figured out?" That said, I've buttoned up my eating even tighter (hello sugar free) and I keep moving, even if most days it is soooo hard to do that because I'm so cold and lethargic.
If we were having coffee I'd tell you the testing I have to do before my visit to the Endocrinologist is no picnic. Especially the urine collection. I need to produce a urine sample every 4 hours over a span of 20 hours. The tricky part is you're not supposed to pee in between collection times. Or drink more than 8 oz. fluids between collection times. Maybe that sounds easy but let me tell you it takes a toll. By the time the final two evening collection times roll around, I'm in rare form. Apparently dehydration (and not being able to pee whenever I want) makes me edgy.
Enough negative Nellie stuff
If we were having coffee I'd tell you I'm super pumped for the Winter Olympics. Local figure skater, Gracie Gold withdrew from Nationals and will not be part of the Olympic team. However Bradie Tennell is the new US Champion and also trains at an ice rink very close to me. Apparently the Chicago area is a hotbed of figure skating talent.
If we were having coffee I'd brag about Thing 2. She told me her goal in her 6th grade gym class was to achieve the 8th grade boys' push-up stretch goal of 30. She did that and more with 35 push-ups in perfect form. I'd be lying if I said seeing her carry on the family legacy of upper body strength didn't thrill me a little.
If we were having coffee I'd tell you I was happy to wrap up Rachel's Burpees, Planks and Push-Ups Challenge and I've committed to her February Superman's Squats & Twists Challenge. It has to be better (easier) than frigging burpees, right?
What would you tell me over coffee? What Olympic sport do you most wanna watch?
I'm linking up with Meranda, Lacey and Rachel for the Friday Five.