I am blessed with a variety of fitness options on Fridays. Since I run on Tues/Thurs/Sun, and Saturday is a rest day, Friday is the perfect time for me to really bust it out and work hard, you know so I'm all sore and stuff the next day. What to do?
My favorite spin class with Melissa McCarthy's personality doppleganger?

Sweat Your Nuts Off Yoga?

Barbell Strength Class?

Plyo Intervals?
In a flash of insanity, I busted out of my comfort zone (no I didn't jump in the pool) and hit up….wait for it….the Salsa Funk class.
It started innocently enough. I staked out a safe-haven in the back corner next to a stack of Bosus. (Bosi?) and noticed I was the only one in running shoes.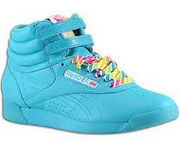 Too bad I have none of these in my closet….anymore…
I gave myself a pep talk to fend off an impending panic attack: "This will be a good workout. You'll rest your running muscles. Plus a little grapevine/mambo combo will do you good. It should make the Fitbit purr too."
The instructor climbed to her perch and shouted "who's ready to dance?" I glanced at the door with longing. We warmed up and I patiently waited for some mambo. But it was all funky-style dancing that would make Britney Spears proud. I fought another urge to flee.
We fumbled through a twisty move called squish the bug. Despite a nagging side stitch, I hadn't a prayer of keeping up.
As time passed I stopped staring at the clock and started…um…getting down. The instructor shouted "Get your sexy on!" Um right…ok…I laughed so hard I cried. Focus! Sexy time! I admired how cut the shoulders/delts were on two girls in front of me and flapped my arms a little harder. Then it happened: We were popping some tags doing ominously funkadelic arm gyrations/pumps/thrusts when my right shoulder said enough. I figured it would just be typical DOMS the next day but whoops, I couldn't lift it. My shoulder KILLED during my run Sunday despite the ridiculous assortment of positions I tried to hold my arm in. Finally I had to cut the run short. Who'd ever think a runner with petrified hamstrings would hurt her freaking shoulder doing salsa funk? It's always something.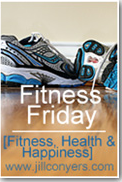 Who's racing this weekend? Um, I'd raise my hand…if I could lift it, that is.
Balega/Vega Giveaway is here if you missed it!